"My thanks go to our entire team"
"What a great success!" sums up Norbert Gruner, Head of Toolmaking at GEALAN, shortly after the jury's verdict was officially announced: Although GEALAN's internal toolmaking did not quite make it to victory in its category in the renowned "Excellence in Production" competition, it did provide one of the three best "Internal toolmaking companies with 50 or more employees" in the German-speaking world. would have been hard to imagine a few months ago. "Winning the category would have been the icing on the cake, of course. But reaching the final also feels like a small victory for us. My thanks go to our entire team, who have worked hard every single day to make sure that we can be even better, even more efficient and compete with the best!"
Big stage in Aachen's Coronation Hall
More than 300 toolmaking companies had originally applied for the "Excellence in Production" competition, which is held once a year by the Laboratory for Machine Tools and Production Engineering at RWTH Aachen University. Two pre-selection phases, another detailed analysis and an on-site visit later, GEALAN and its in-house tool shop were once again given the very large backdrop of the Coronation Hall in Aachen City Hall.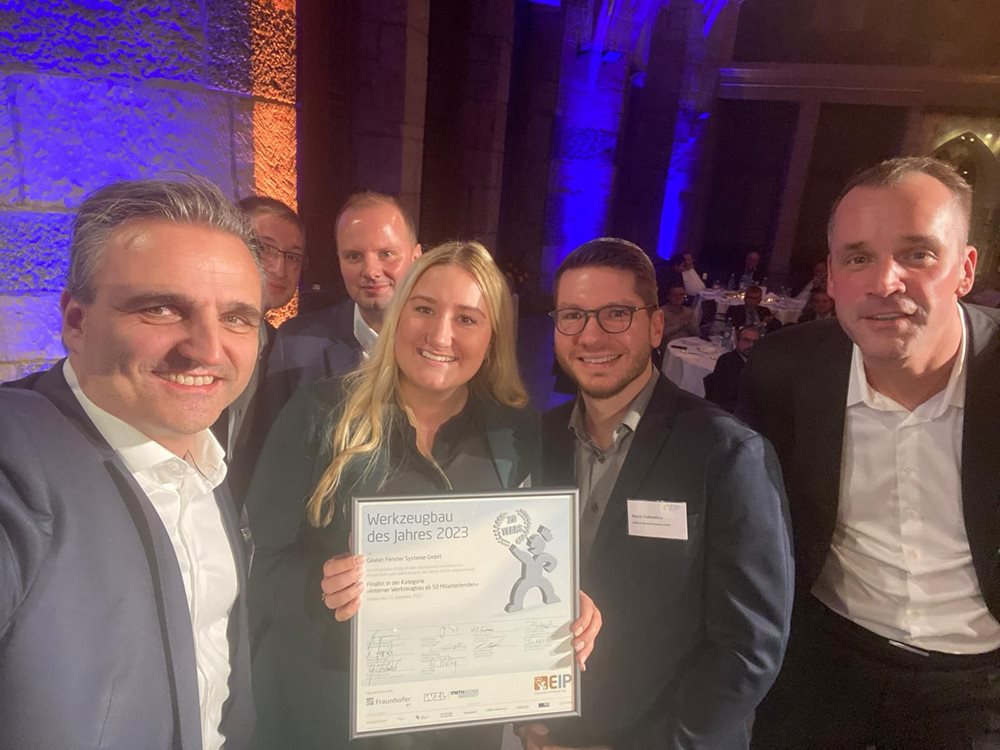 A long evening in Aachen's Coronation Hall ends with a finalist certificate of "Excellence in Production" 2023: The GEALAN delegation with (from left) Managing Director Tino Albert, Florian Feulner, Kurt Theuerkauf, Denise Heller, Kevin Schmelzer and Division Manager Norbert Gruner (right), who can celebrate the great success for the in-house toolmaking (source: GEALAN).
The next projects are already underway
"We are not resting on our laurels," Norbert Gruner revealed immediately after the award ceremony, "but already have the next homework to do. Because we want to get better and better." Two topics are now very high on the agenda at GEALAN toolmaking: "Our MES, which is our production planning and control system, is currently being implemented. The plan is for it to go into operation in the course of 2024." In addition, GEALAN wants to further advance the great advantages of simulation and the use of artificial intelligence in toolmaking.
Proud Managing Director
Tino Albert, Managing Director of Technology and Finance, is proud of the qualification for the final: "Congratulations on this sensational success to our entire toolmaking team! We see this award as confirmation of the massive investments made in automation and digitalization in recent years, as well as in the know-how of our colleagues. When I see the progress we have made there in recent years, this is the just reward for very hard and meticulous work."
More about GEALAN toolmaking
What makes GEALAN toolmaking so special? First insights can be found here: https://www.gealan.de/de/news/gealan-werkzeugbau-unter-excellence-in-production-finalisten/
Anyone who would like to learn more about the award-winning GEALAN toolmaking and go into detail with us or even exchange ideas with the GEALAN experts on site is always welcome!
Trade journalists and all other interested parties from the industry should contact Marc Schenk at mschenk@gealan.de