Özkan Arslan (44) is extremely pleased when he looks at the curve on his screen. The graph in the coordinate system rises very steeply. 'If it were possible, the curve would make a loop.' Arslan laughs. The curve depicts how many times GEALAN's BIM solutions have been downloaded. It is one of many BIM curves that are rapidly rising at GEALAN. BIM has become a great success for GEALAN.
Özkan Arslan, Head of Digital Planning, has long been fascinated by 3D planning methods. The trained technical draftsman, who completed vocational technician training and then mechanical engineering studies with a master's degree, started working at GEALAN as a Design Engineer in 2015. He plans the relocation of the company's Technology Centre from Döhlau to Oberkotzau in 3D, which gives management the idea of putting him in charge of the subject of BIM which was still new back in 2017. Alone Arslan's professional development, which he continually combines with a full-time job with his training and then with his studies and always successfully completes both, shows that he's somebody who sees things through to completion, and that's the way it also is with BIM. The topic quickly develops at BIM. While others are still hesitating, GEALAN has already placed it figures on the board and come up with a strategy.
The strategy is to develop its own BIM solutions. Programming a virtual BIM twin for each window system, uploading it to major BIM platforms such as BIMobject, and making it accessible to architects to download here so they can add it to their 3D planning programme: 'Of course, we're doing that. BIM data is available for 99.9 per cent of our products – for window profiles, door systems, sliding systems and ventilation products. But that's not all: we've also simultaneously developed complete apps to open up entirely new possibilities for architects.' GEALAN's Planersoftware 3.0 is the key. It is offers a plug-in and an add-on for widely used CAD design programmes such as Revit and Archicad. Architects don't only download individual models but also apps which fit right in with their usual design programme. They click on the window and door configurator in the programme and create windows and doors exactly the way they want. Once integrated into the design project, realistic 3D simulations of a building model are generated.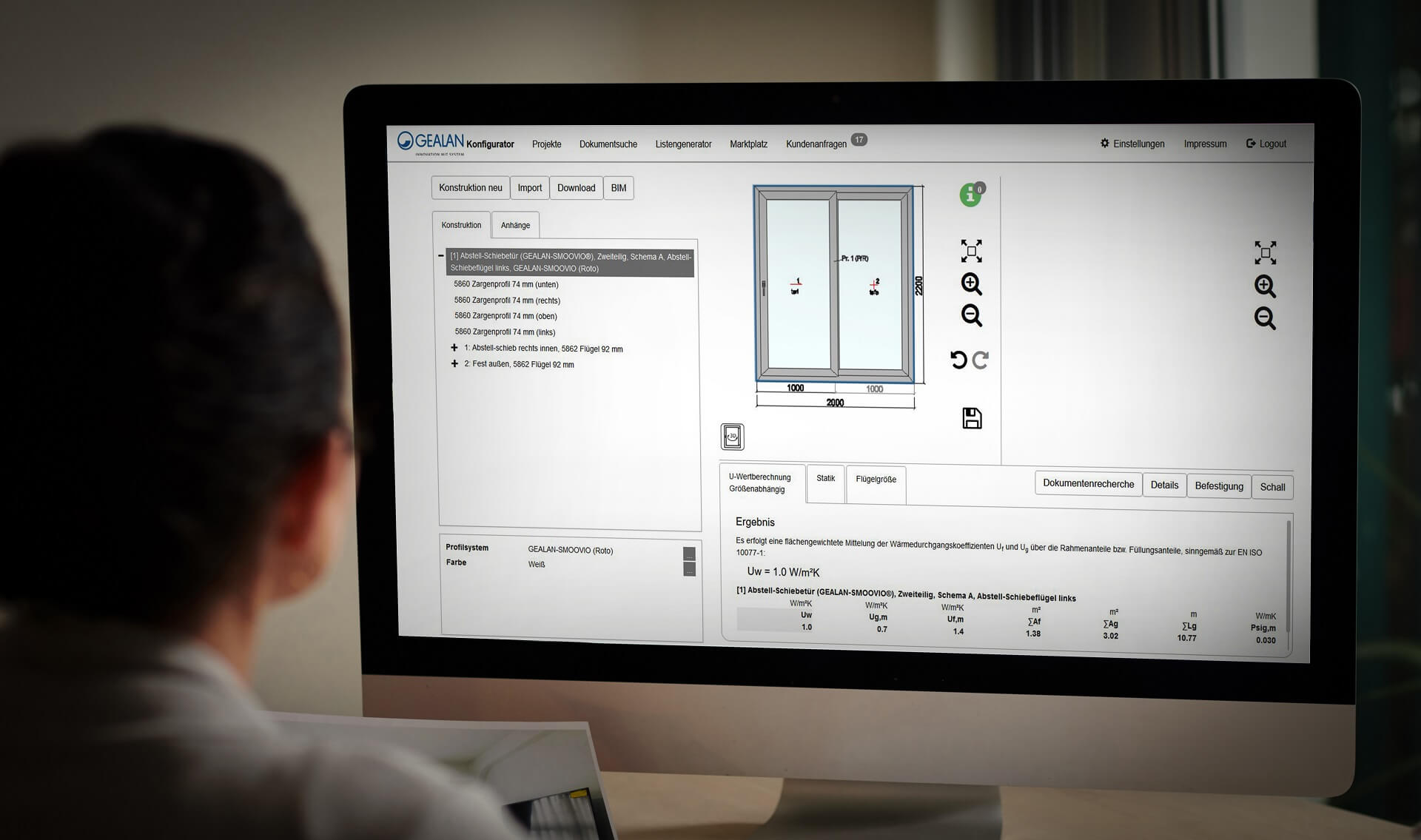 The window and door elements can be visualised in all systems and plenty of formats, colours, foils, and of course also with the GEALAN-acrylcolor® surface. The levels of detail in the BIM models can be selected so that the programmes always run smoothly. 'It would take an architect a few days to draw a more intricate window model themselves, our tool lets them do it within just two minutes', says Özkan Arslan. Apart from saving time, a huge selling point is also the freedom of design: designers do not select from a range of predefined options, but instead they freely design doors and windows – and are afforded a certain degree of design reliability too: 'Our door and window generator checks if the window manufacturers can actually produce the window this way. In other words, it verifies the technical feasibility. If an architect wants a window measuring four metres high, the software says: sorry, but that's not possible. If they are designing a window in a coastal area, the programme immediately calls for stronger bracing that can withstand the wind load at sea.'
GEALAN's BIM solutions stand out above all for one thing: user-friendliness. Architects appreciate the integration and usability within the design programme. GEALAN has significantly upped its BIM game with the Planersoftware which the company is systematically developing one step at a time. This is such a success because GEALAN listens. 'We are provided with a lot of feedback from architects who use our apps', says Özkan Arslan. 'They tell us what they need and what they're looking for.' Architects ask, for example, how they can get the complete window list for a project with all the parameters required for the window manufacturer or dealer. The solution is something known as the 'project structure' – GEALAN's latest BIM move: the architect creates a project, for example, for a new school building in Munich, in Planersoftware 3.0 and then defines how many turn-and-tilt windows, mullioned windows, lift-and-slide doors, etc. are required for it: they can then send this project as a file to a window manufacturer so that they can open it and work with it. It also works the opposite way around: the window manufacturer creates the windows required by the architect for a building project in Planersoftware 3.0 and provides the architect with the project file which they can then simply drag and drop into their building model. 'We want to develop this project structure so that all participants can share their projects. That's how we're completely reorganising communication about specific planning stages and issues.' In general, digitalisation, which also includes BIM, is having a huge impact on communication between GEALAN and designers.
'There are around 137,000 architects in Germany. In thirty, forty years, we've managed to make contact with around 10,000 of them', says Özkan Arslan. 'Digital possibilities such as BIM put us in a completely new position to get in contact with designers who we have not yet reached or who are new – simply because they googled the search-term combination "BIM windows".' It's no coincidence that GEALAN is the first search result delivered for this search request.
There's less talk about BIM today as there was six or seven years ago, but it's more important now than it was back then. Paradox? 'No', explains Özkan Arslan: 'We experienced hype surrounding BIM in 2016 and 2017, but all that is done and over with now. Think of it like the iPhone: it was a big deal when it was released. It was the talk of the town. Today, nobody's surprised that you use smartphones to take pictures, find your way around or surf the Internet. They just simply belong – and that's the way it also is with BIM.' Google shows how things are developing: searches for the term 'AutoCAD' are decreasing year by year, while those for the three largest BIM programmes are increasing every year. There's no doubt that BIM is the future. The coronavirus further accelerated this development. 'Architects used to be accustomed to being contacted by us in the past. Today, they set out on their looking for digital solutions. It was once difficult to send drawings back and forth, and there was also less willingness to show current designs. These barriers have been removed by videoconferencing: if there is a problem, the architect shows us their floor plan drawing, thereby naturally enabling us to provide them with far more accurate advice and help them much faster and better.'
The next move is to transfer data from Planersoftware 3.0 directly to window manufacturers' window construction software. Özkan Arslan believes this move will be successful even if window construction software is currently opposed to it. The more architects there are working with BIM apps, the greater the demand will also be to share data in packages; digital solutions such as Planersoftware 3.0 are designed to eliminate digital system disruptions.
GEALAN opted for BIM early on. 'It has paid off big time for us', says Özkan Arslan. The quality of GEALAN solutions (product data and apps) was high right from the start. 'We are very ambitious when it comes to our own expectations. We only release solutions if we can say: that's not just very good, it's excellent.'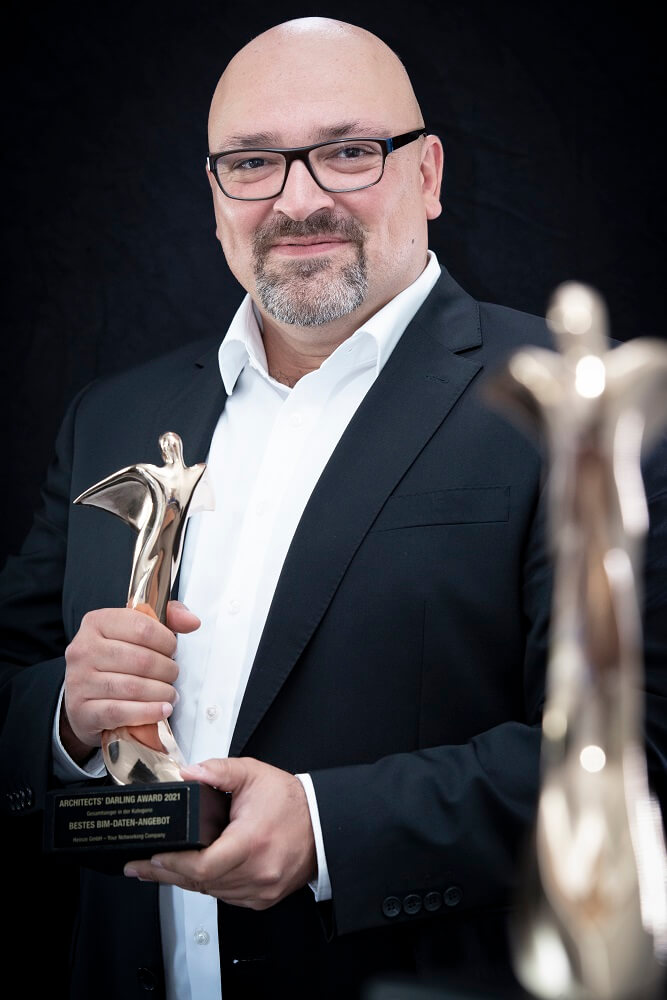 This attitude has led GEALAN to the top of the podium several times: at the ARCHITECTS' DARLINGS® Award put on by the building portal Heinze, it won third place in the 'best BIM data offering' category in 2019 and then first place in 2020 and again in 2021. 'That's not that easy', says Özkan Arslan, making one of his typical understatements. 'It's not just the window industry at the competition, but also members from the entire building industry.' The jury, made up of 14 German architectural firms, awards scores in a wide variety of categories. 'We've managed to win repeatedly because we took a good look at what we need to get better at.' In 2018, GEALAN is named seventh out of 1,200 manufacturers on BIMobject, the world's largest BIM platform with more than 2,000 building product brands and the top 100 architectural firms as users, today it is ranked first in its industry.
The prizes don't only attract attention to GEALAN and bring it prestige, they create contacts. The number of leads created by BIM for GEALAN more than tripled between 2019 and 2020. By 2021, they almost doubled, and in 2022 GEALAN will generate just as many leads as in the last four years combined. Graphs may not loop around, but GEALAN's BIM curve remains steep.