GEALAN's acrylcolor surface technology has been an ongoing success in the marketplace since 1980. In a co-extrusion process, PVC base material and coloured acrylic glass (PMMA) are fused together – thus creating the top-quality acrylcolor surface, with its unrivalled properties, for window and door profiles. GEALAN has been investing in acrylcolor for more than 40 years now and has been selling it very successfully in the European window market: more than 80 million profile metres have been sold since 2000 alone, 49 million of them in Germany, which confirms acrylcolor's high level of acceptance among window manufacturers, specialist dealers, architects and building owners.
However in 2021, acrylcolor isn't the same: thanks to consistent and ongoing technological and material developments, as well as an expansion in the range of systems and colours, acrylcolor from GEALAN is in a better position than ever.
Wide range of applications
GEALAN offers acrylcolor surfaces in all system depths. Whether historic old buildings or modern cubic architecture; whether windows, front doors, balcony doors or sliding solutions; even country systems for the Netherlands, France, Italy and Spain are finished with acrylcolor as standard. The production of acrylcolor profiles has been steadily built up and expanded, so that today GEALAN can offer solutions for a wide range of building situations.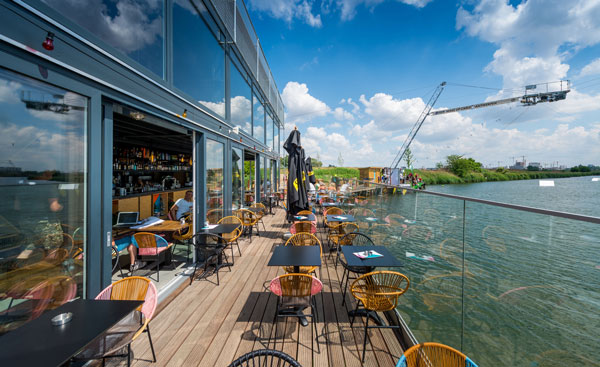 Glass facade of the Galgenweel wakeboard centre in Antwerp, in GEALAN system S 9000 NL in acrylcolor RAL 7016 (anthracite grey)
Technologically superior
GEALAN operates its own toolmaking shop with 75 employees – and in 2017 it won an award in the 'Excellence in Production' competition organised by RWTH Aachen University and the Fraunhofer Institute for Production Technology IPT. Here, the co-extrusion of acrylcolor profiles has been consistently – and not just proverbially – refined over the past 40 years. In addition to the standard range, a wide variety of complex geometries can be realised with more than 150 acrylcolor tools – from filigree decorative profiles to monoblocks for the French market, with absolutely uniform depth of coverage. It's also possible to respond to individual customer requests and build the right tool. This makes acrylcolor by GEALAN extremely versatile, even in the case of special solutions.
Tools are continuously refined in our in-house toolmaking department – an unbeatable advantage in the manufacture of acrylcolor profiles at GEALAN.
Sophisticated material mix
Research & development in the material composition field also takes place in-house at GEALAN and has been continuously pursued for acrylcolor. Material flows have been optimised, material properties improved – GEALAN has developed for instance heat-optimised colour batches as well as a wide colour spectrum, among other things. GEALAN is even able to master the production of metallic shades that are so challenging to manufacture – an absolutely unique selling point in the PMMA sector.
Unrivalled colour selection
GEALAN's acrylcolor colour range has been continuously adapted, optimised and expanded to meet market trends. Even the standard colours include nine shades, from deep black to sepia brown. The metallic shades already mentioned, unique in the PMMA sector, are also part of the standard range. Trend colours such as DB703 and silver are worth mentioning as well. In addition, acrylcolor makes more than 50 other special colours possible for GEALAN on a property-related basis: from white aluminium to purple.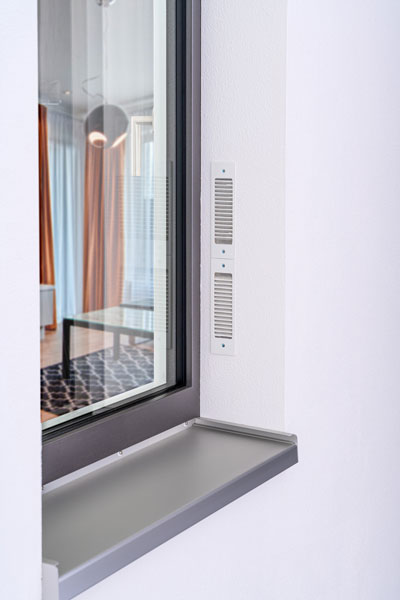 acrylcolor by GEALAN, here in metallic colour DB 703, with GEALAN-CAIRE® smart integrated ventilation system.
Certified quality
For decades, acrylcolor from GEALAN has held various quality certifications, such as the RAL certification for Germany. This means that – in addition to strict internal quality controls – there is also very demanding external monitoring on a regular basis, from material resistance to production processes. This proves the long-established, premium quality of acrylcolor surface technology, with its promise of durability, colour fastness and warranty.
Through many years of consistent research and development and its resulting expertise, GEALAN has achieved a level of maturity with acrylcolor that is second to none. Outstanding in technology, materials and colour, with unrivalled versatility in application – this is what our unique innovation acrylcolor stands for in 2021.
For further information, please visit: www.gealan.de/en/innovations/acrylcolor