To get a sense of what "extensive" means at this point: a total of 32 tests - 16 of them at GEALAN, just as many off-site - are scheduled for the second half of 2022 alone to prepare the new GEALAN-KONTUR® profile system for market launch. What is being tested? Kay Sommermann, head of testing at GEALAN, explains: "We started with development tests. These were tests with GEALAN-KONTUR® prototypes, in which we tested breaking loads of the centre dome in our technical centre. To do this, we loaded different designs with a compression die in order to be able to track force introduction into the geometries. Furthermore, burglary tests were also carried out; here we worked with tools for burglary classes RC2 and RC3. These include screwdrivers, wedges or the so-called "cow's foot"." GEALAN-KONTUR® is, after all, designed with special attention to not letting intruders into the four walls. "Currently, the first so-called air-water-wind tests are underway, and we are also doing these in our test laboratory. Here, extreme loads on the system are simulated, such as a hurricane would bring."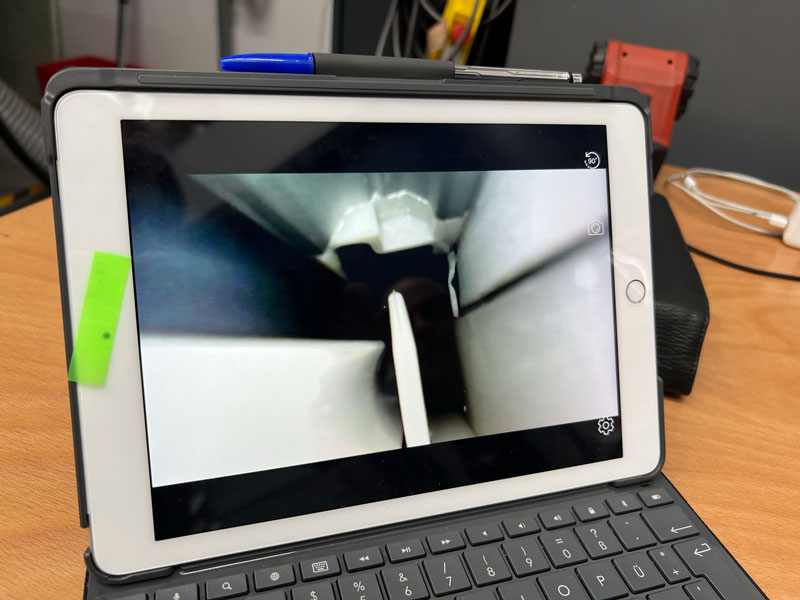 Picture: The smallest cameras provide insights into the inside of the window during the tests
The new GEALAN-COMFORT® threshold solution has already passed these tests, as Kay Sommermann reports: "We tested the single-leaf door up to 600 Pascal. In this case, that is the measure of driving rain tightness. And because no one can imagine what that means: That's as strong as hurricane Kyrill, which covered house roofs at 110 kilometres per hour in January 2007 - and during the tests, not a drop of water is allowed to get through the door to the inner room side."
The tests will begin - as described - on prototypes, starting with tests in GEALAN's own house. Later, GEALAN partners are also involved, as in the case of GEALAN-COMFORT®, the companies Gretsch-Unitas (GU) and Athmer, who contribute relevant system know-how as well as the mechanical drop-down seal and conduct informative endurance tests in their rooms. "This provides us with a broad picture of results and thus a high degree of reliability for our customers," explains Andreas Linke, group leader in GEALAN product management, adding, "These tests not only have a laboratory character, but our new developments are literally put through their paces here."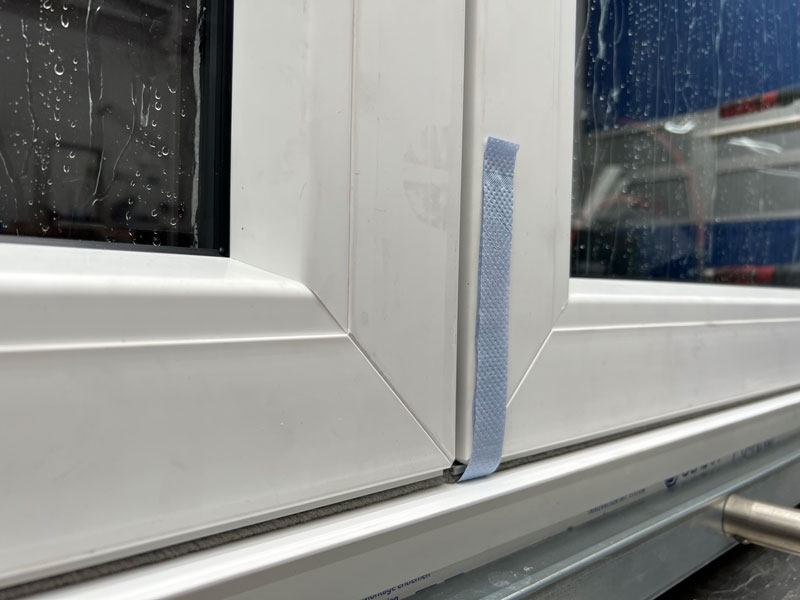 Picture: Test strips additionally show at which points moisture enters the room during the air-water-wind tests
The tests that the Institut zur Prüfung und Zertifizierung von Bauprodukten, Sicherheitstechnik und Schutzausrüstung (ift) Rosenheim accepts are decisive. Kay Sommermann: "Certain measured values are specified in order to obtain a CE mark. No window may be sold in Europe without the corresponding parts being marked. However, we go beyond these minimum requirements with our values."
Until this is achieved, there are repeated in-house tests, followed by adjustments, and then further interim tests. With GEALAN-COMFORT®, for example, testing of single-leaf doors began in September 2021; until the beginning of the year, adjustments were made again and again to further improve the system to meet the highest requirements. At the same time, the tests of stile doors were started.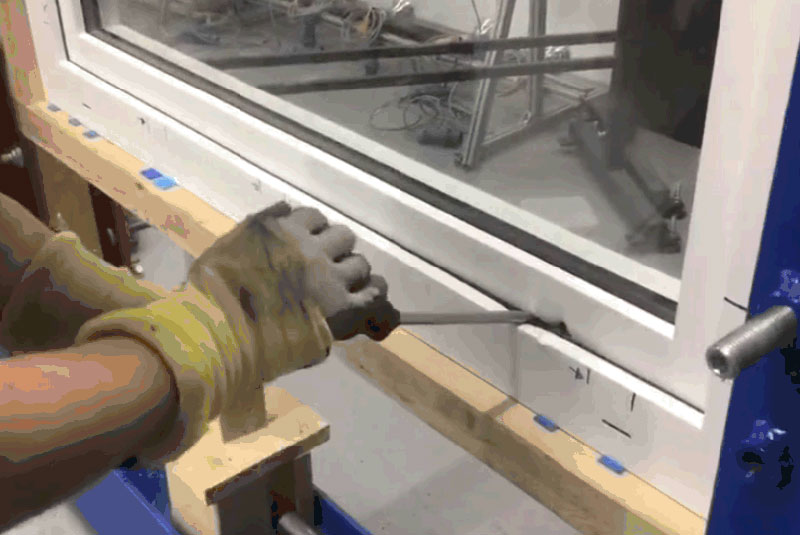 Picture: Various tools are used in the tests to carry out break-in attempts
In addition to the described tests for burglary protection, wind and driving rain resistance, extensive tests for sound insulation, fall protection and suitability for long-term use are also scheduled. How extensive are the tests? "Individual air-water-wind tests take about an hour per cycle, but are repeated several times a day after minor adjustments. But there are also test cycles for the continuous use of adhesive systems, for example, which last over six weeks," explains Kay Sommermann.
Basically, if you want to put new products or systems to the test, you first have to have the so-called run-in samples before you can start the tests. These are the first processable profiles that are made available for the pilot and test phases via the high-performance run-in technical centre of the GEALAN tool shop. A complete system test ultimately takes over a year.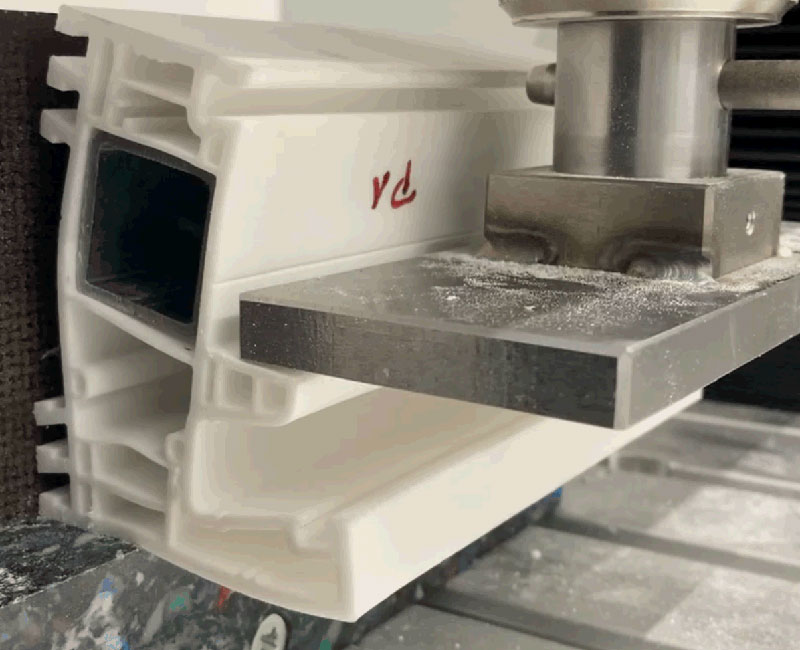 Picture: The profile geometries are subjected to different forces with a pressure die
But even existing systems are tested at GEALAN from time to time in order to further develop them. Or when system additions become available, for example the wet bonding process is supported with new products in the programme - then Kay Sommermann and colleagues in the testing laboratory are again in demand for extensive tests.