With regard to air quality, relying only on our own senses can be a problem. Recent studies show that more than half of all sickness-related absences from work are due to poor ventilation in the workplace.
Correct ventilation is particularly important in times of a pandemic, when viruses are mainly transmitted in the air we breathe. It is therefore all the more important to rely on technology that has the right sensors:
Ventilation systems
that detect exactly when the air is no longer fresh. And which provide timely relief by guiding stuffy or excessively moist air outside and fresh, purified air inside.
The air is cleaned by integrated filters, which can optionally even keep out fine dust particles.
GEALAN has recognised the signs of the times with its ventilation programme
GEALAN-CAIRE®
.
GEALAN-CAIRE® smart
is an active ventilation system that is installed in combination with the window and is smart home ready.
The ventilation process is initiated automatically as soon as there are no more ideal conditions. Used, contaminated, moist air is removed to the outside and fresh, purified, oxygen-rich air is fed into the rooms. All this happens without the need to open a window.
In addition, the outside air is preheated by a heat exchanger. Which is a decisive advantage, especially in the approaching winter when classrooms, open-plan offices or public buildings need to be supplied with fresh air on a permanent basis in order to keep the risk of infection by various pathogens as low as possible.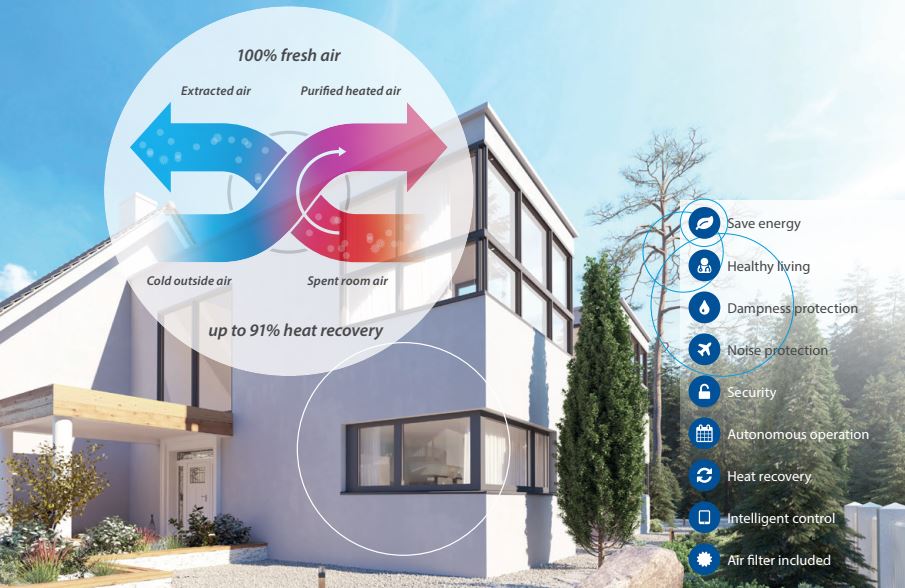 With its innovative and intelligent ventilation systems, GEALAN makes an important contribution to better air quality and thus to health and well-being. Especially in times of increased risk of infection and contagion. And without having to constantly think about ventilation and opening windows.
Learn more about GEALAN CAIRE® ventilation systems