What does a window profile from the German state of Thuringia have to do with an oil shale in Estonia? Absolutely nothing.
This, however, could change, says Dr Anja Wachter (32), a chemist in the GEALAN Research and Development department: 'Oil shale was burned in Estonia to produce energy. Today, the ash is found in large quantities in landfills. Scientists are currently researching whether the calcium carbonate from this ash could be used as a chalk substitute for our PVC formulations which contain chalk', explains Anja. 'Recovering it requires carbon dioxide, which means that the process itself doesn't release any carbon dioxide, but instead has a negative carbon footprint. It's a very interesting matter!'
Does a PVC window profile have anything to do with wood? No.
Still Dr Anja Wachter meets with wood experts from TUM Campus Straubing to discuss materials, properties and sustainability. Does a window profile have anything to do with biopolymers? No. Yet Dr Anja Wachter thinks about whether they could offer opportunities to develop materials and engages in exchange with researchers.
These are just three examples showing that GEALAN is watching where things are developing in research and is thinking outside the box in terms of interconnections, processes and materials. Of course, this is the primary task of Research and Development. Dr Anja Wachter has worked at GEALAN since 2019 and oversees several projects having to do with sustainability. 'It's very important for us to have partners in development – we talk with universities but also with companies to look at what start-ups are researching in the area of materials and sustainability.' GEALAN is at the cutting edge of science when it comes to trends in materials development and the roles which new materials, such as biopolymers, can play. 'Not everything can be realised right away', says Dr Anja Wachter. 'Nevertheless, we keenly pursue many different things, in some instances as an industry partner, as a development advisor so to say' – as soon as useful raw materials or products are generated from research for us, GEALAN wants to be among the first to use them.
When is a window profile sustainable? When it lasts a long time?
GEALAN window systems are weather-resistant and durable. Is the window profile sustainable when all raw materials are sourced in Europe? GEALAN makes its purchases in Germany and Europe, avoids long transport journeys and does not make any compromises, even when times are geopolitically complicated. Is the profile sustainable when it makes buildings fit for the future in terms of energy? Windows made from GEALAN profiles are an essential component for insulating buildings and reducing emissions in line with the provisions of the Green Deal, and they are the cost-effective, socioeconomically important factor in achieving widespread energy savings. Dr Anja Wachter is certain that the factor of performance will become even more important in the future. 'Windows play a decisive role in the energy footprint of buildings. The ever-increasing legal requirements being placed on building insulation and energy efficiency will mean that we will need even better-performing windows. And that's where our focus clearly lies, on performance.'
Is a profile sustainable when it comes from an environmentally friendly company?
GEALAN calculated its carbon footprint and realises that the high amount of energy it consumes during production is only justified by the fact that its product helps save a disproportionate amount of energy when it is used in buildings, that it lasts for a long time and that it can be fully recycled. Recycling is the most important aspect, for a profile is largely only sustainable when it's part of a cycle. Around 33 per cent of the materials GEALAN uses are recycled, and it wants to increase this share to 50 per cent. In contrast to the packaging industry, GEALAN successfully recycles PVC to make window profiles out of window profiles – it's true 're-cycling' and not down-cycling. There's hardly any other place where closed-loop recycling works so well as it does here. In comparison to virgin materials, every ton of recycled materials GEALAN works with saves 2 tons of CO 2. GEALAN could step back and say: sustainability? All done! However, the company does the exact opposite.
What does window recycling have to do with coffee beans? Nothing?
Recycled material from own production
Jörg Fickenscher (42) knows better. He is responsible for process engineering at GEALAN and knows the €2 million hamos plant in Tanna better than anyone else. 'Plants like this come originally from the food industry; they are capable of sorting coffee beans or rice grains according to colour – our plant sorts out PVC from our own production waste. The material is mixed, dedusted and separated electrostatically, so that we end up with PVC material divided into soft and hard PVC, separated into white and non-white.' Reincorporating PVC reclaimed from waste, but also from cuttings generated by window manufacturers during fabrication, and from old window profiles, into the production process requires increasingly better process engineering solutions. 'The challenge here is to reclaim materials which are as clean as possible', says Jörg Fickenscher. 'After all, our high quality standard when it comes to the finished profile remains unchanged.'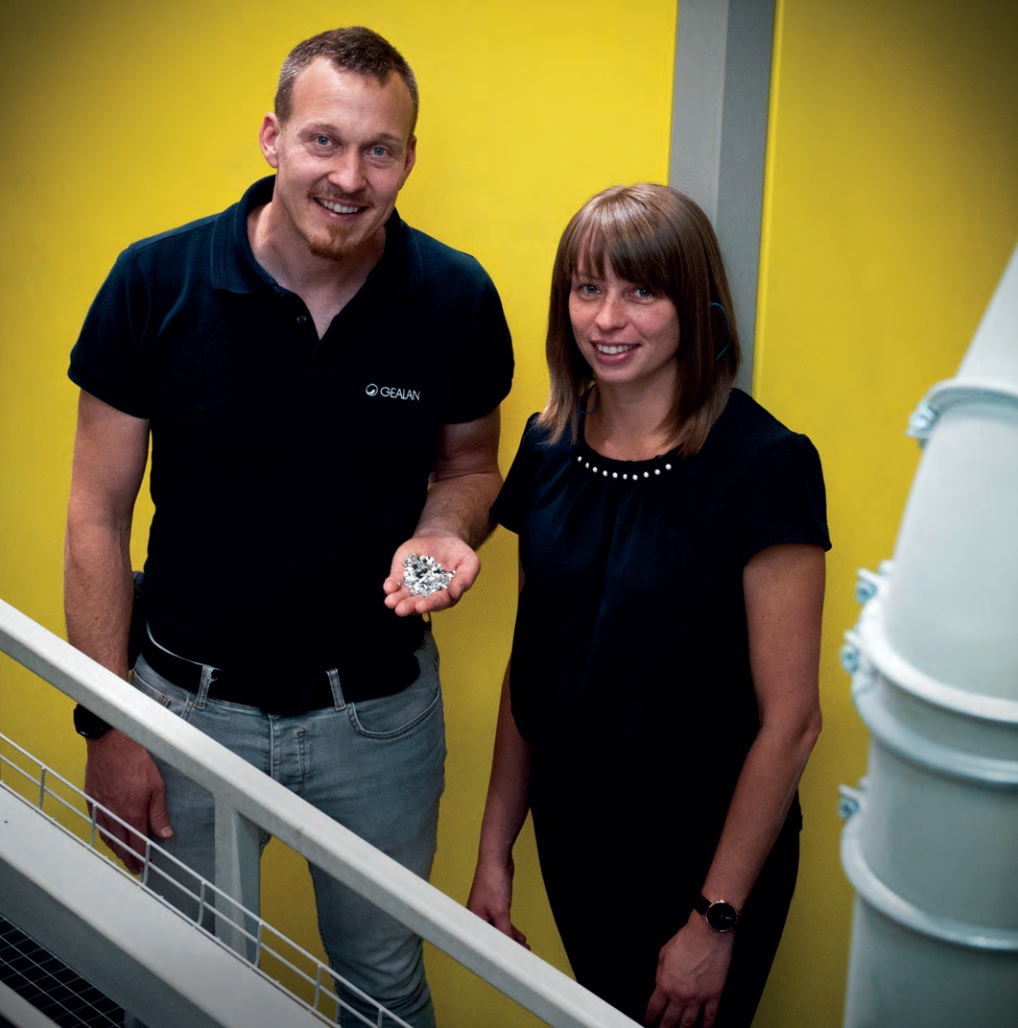 The more we recycle, the more recycled materials become a highly sought-after commodity and the more important co-extrusion processes which extrude both virgin materials and recycled materials become. GEALAN is always in need of more and more recycled materials because it is growing vigorously. That's why Jörg Fickenscher is making a unique project a reality at GEALAN ROMANIA: 'In Romania, we want to recover as much material as possible from the market and develop the entire recycling process, from shredding technology, sorting technology and filtering – everything we need to incorporate recycled materials into the extrusion process so that we can achieve a high-quality product. It's entirely about covering our own needs.' This shows that GEALAN is taking action itself and investing in order to meet its own needs when it comes to recycled materials.
Was hat Nachhaltigkeit mit agilen Prozessen zu tun? Nichts?
What does sustainability have to do with agile processes? Nothing?
Johannes Korthals (36), Product Manager at GEALAN, says: 'In order to truly develop a sustainable product, we need expertise from many schools of thought. Only because we create interdisciplinary teams, because we use creative techniques and agile methods, and because we realise pilot projects together with our customers, are we able to develop products that meet many different requirements – one of GEALAN's strengths.' Sustainability plays a role in every phase of product management, from developing products, realising new products, and the product portfolio. 'We design new products so that they have a high percentage of recycled materials and also integrate perfectly into our processors' highly automated production at the same time. GEALAN-KONTUR® is a good example: the profile platform was developed so that it fits perfectly into our processors' workflows.' The point is to think about closed-loop recycling right to the very end when it comes to every new product, says Korthals. Versatility is another point, he says: 'If we can achieve as many different window solutions as possible and realise customer requirements, that's when we save resources. Our new GEALAN-COMFORT® floor-level threshold is sustainable: if you build in a barrier-free manner right from the start, you'll save on renovations down the road.' Even ventilation and smart home solutions have sustainability as a background: 'The products in the GEALAN-CAIRE® ventilation range direct fresh air into the house in a more energy-efficient manner than just opening windows; losses are minimised and heat is recovered.' Smart home applications aid user-oriented and demand-based control. In the face of rising energy costs, these topics are becoming more and more important, says Korthals. 'We are very well positioned with our products.'
Johannes Korthals agrees with Dr Anja Wachter that the key to sustainability rests on the performance of future systems. 'PVC windows are inherently sustainable because they dramatically improve the energy balance of a building', says Korthals. 'The same is true for our GEALAN-acrylcolor® surface: it is also naturally sustainable because it makes a window resistant to weather and easier to maintain over its entire lifetime. We don't just think about the requirements currently placed on a product but about what they will be in 5, 10 or even 40 years – that's how long the life of a window can be. We think ahead.'
Pioneer in the field of sustainability
GEALAN's commitment isn't just lip service. Sophia Lingner (33) is in charge of implementation and, as a representative of management, is responsible for certification in the areas of the environment, quality and energy. 'We assist the various company divisions with these subjects, shape processes together, carry out audits and look for opportunities for improvement.' Among other things, GEALAN has officers to manage waste and accidents, emissions, energy, and fire prevention, as well as advisors to answer legal questions concerning these areas – and Sophia Lingner coordinates all of them. 'We place very high demands on sustainability. You can tell that GEALAN invests in this topic because it's helping us get ahead. Even when we plan new buildings, we pay attention to having a good heating control system, for example, in the case of our new high-bay warehouse. We look into whether we can use photovoltaics, where we can make our plant technology even more efficient, and where we can save compressed air, electricity and water. A lot of things are done without paper. We have a new recycling technology. We look for sustainable materials. When I look around the company, I think: GEALAN's got a grasp on the topic of sustainability.
ISO 9001, ISO 50001, ISO 14001, EMAS, VinylPlus® – GEALAN undergoes checks by external auditors, which culminate at the beginning of May when all ISO audits are carried out in one week. GEALAN, however, does its homework throughout the year to ensure no panic ensues before this 'auditing date'. Sophia Lingner is in charge of making sure that all necessary information is on hand. Certificates aren't only credentials, they're also part of communication. 'We present ourselves to the outside world with our declaration to the environment. Our customers ask which certificates their system provider can provide so that they can participate in tenders – because government funding is linked to them and because they also use the certificates to reason with their customers.'
Sophia Lingner collaborates with so many colleagues that she's got a good view of things: 'Many of our sustainability-related projects are very interesting. The project managers take the challenge to become even better seriously. GEALAN is lucky to have great people in these roles who understand how important sustainability is and who have taken it to heart.'
Estonian oil shale, optimised process technology, agile methods and audits – when it comes to conserving resources and protecting the climate, GEALAN has realised that everything is connected. Sustainability is a colossal task that GEALAN is working together to solve – on the future's behalf.