In 1991, Lithuania became independent after almost half a century as the Lithuanian Soviet Socialist Republic, and its citizens started a new life, says Inga Valainytė, GEALAN Baltic's deputy director. "The world was now open to us. We were hungry for freedom and hungry for everything this freedom could offer us – new contacts, new opportunities, new products". The PVC window was one of these new products, initially only available in white, and costing about a month's salary. "Expensive, yes, but Lithuanians love innovation and thought it was great to be able to buy these windows, which didn't exist in the Soviet Union".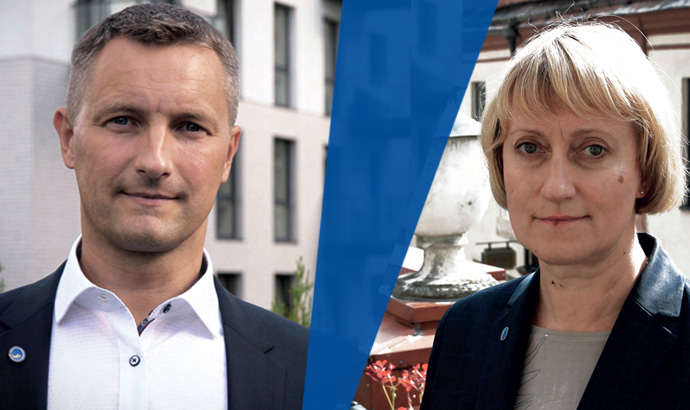 Rytis Šmerauskas in the new Vilnius: Where the Žalgiris football stadium stood until 2016, real-estate developer HANNER has invested around 200 million euros in properties that include flats fitted with windows made out of GEALAN profiles. Inga Valainytė in the old Vilnius: Senamiestis, the medieval city centre, is characterised by Gothic, Renaissance, Baroque and Classicism. The historic centre of Vilnius has been a UNESCO World Heritage Site since 1994.
Lithuania is the largest window producer in the Baltic states and GEALAN is the only manufacturer of PVC profiles. "The Lithuanian window makers, experienced in working with wood, first had to learn how to make PVC windows. They tried out a lot of different things, improvised and modified machinery", says GEALAN Baltic director Rytis Šmerauskas, who was himself a worker in window construction during his mechanical engineering studies in Vilnius; at 22 he became a shift manager, at 24 a production manager. "I built everything that wasn't standard and that others weren't building – triangular windows, round windows, lift-and-slide doors". After work and on weekends, Šmerauskas installed the windows he had built. He repaired and sold window construction machinery before joining GEALAN Baltic's sales department in 2009. The 43-year-old has been running the company since 2021. "We Lithuanians are talented; we're fast and we're still hungry. Maybe not as hungry as 30 years ago, but hunger is part of our mentality.
Bridges built using language skills
Inga Valainytė (51) studied German and English, "at a teacher training college, but I never wanted to be a teacher, I only tried teaching once during a field placement". Her language skills opened up career prospects for her. At MEGRAME, one of the first and now the largest PVC window manufacturer in Lithuania, she was employed in 1994 as a sales clerk and her tasks included maintaining contact with its profile supplier in Germany: GEALAN. This bridge between these two partners has existed since 1992 and it's still intact today. "I prepared and helped set up a joint venture between MEGRANE and GEALAN, an extremely exciting project. Then, when GEALAN Baltic was founded in early 1997, I moved to the new company. I was again a clerk in the sales department, then I managed the internal sales department and since 2010 I've been deputy to the director. Interacting with my German GEALAN colleagues has been one of my most important jobs in all my positions. My studies certainly paved the way to my career – I couldn't make windows or manufacture profiles, but I could make connections using my foreign languages. I learnt a lot about window technology through work. I'm still fascinated by the industry and I think it's really innovative".
Until 2009, GEALAN Baltic was based in the heart of Vilnius. Then, in the middle of the financial crisis, production, logistics and administration moved into a new building 23 kilometres southwest of the capital. "No one wanted or was able to invest during this difficult time – we did", says Rytis Šmerauskas. "The move had been planned for several years – and we stuck to our plan. At the height of the crisis, we put one million euros into a new mixing line for raw material. When the market picked up again, we were well prepared". GEALAN Baltic has grown year after year since then, without outside capital. In 2021, turnover jumped from 27 to 36 million euros. "We're investing half of our profit and we're growing faster and faster".
Their workforce is also set to grow – from 155 to 170 employees. In the beginning, GEALAN Baltic extruded using three lines and five tools. Today, we use 24 extruders and 360 tools. Our annual production is 10,000 tonnes of profiles, about half of which are delivered within the GEALAN Group to Germany, Poland and Russia. Inga Valainytė: "Anyone operating an extrusion plant in Lithuania cannot make a living from the small Baltic states market. Our focus is on Scandinavia, Kaliningrad, Ukraine and Belarus. And if opportunities open up beyond that, we'll seize them before others do".
Contacts established all over the world
In 2013, Rytis Šmerauskas met an Uzbek who wanted to manufacture PVC windows in Tashkent – using a German brand's quality profiles that his wealthy customers would insist on. GEALAN supplied him with its S 9000 system, equipped with a special coloured foil for high outside temperatures. "Our premium products are used there to create fascinating designs, such as large-dimensioned lift-slide doors".
In 2015, we started deliveries of S 9000 GEALAN-acrylcolor® profiles to South Korea, where the innovative GEALAN-SMOOVIO® sliding system for optimising use of scarce living space are also extremely popular. Šmerauskas explained the advantages of thermal insulation to them and hit a nerve with black profiles. New bridges to Cambodia, Azerbaijan and Georgia are currently being established.
After three years of intense preparation work, GEALAN Baltic successfully concluded a cooperation agreement with INTUS WINDOWS. Its owners emigrated from Lithuania to the USA twenty years ago; they now build windows in their old homeland, exclusively for export to North America. Rytis Šmerauskas: "This project was a big challenge for GEALAN; there was scepticism and doubt. But I believed in its success and put everything into it. In the end, we beat out our competitors and won the contract. INTUS is processing our S 8000 system – an extremely high-tech product in the United States, a market with great potential".
25 years of GEALAN Baltic. Those first pillars driven home in Germany and Lithuania during the early nineties now support a stable bridge that benefits the partners at both ends. It was and is the basis for a network of other bridges, over which the Lithuanians carry the GEALAN brand and its innovations from a small country into the big wide world.