Software, hardware, cloud systems, automation: all these things are not unknown to Mohammad Kamandar, who, after studying computer science in Iran, was employed for ten years as an IT specialist with the police. "The tasks and systems were different there, however," he says, describing why a training period with the GEALAN experts was urgently needed. "In addition, I don't speak German that well yet - but I want to learn it as soon as possible, have already taken private online language courses, and am currently completing one that GEALAN made possible for me."
Mohammad Kamandar fled Iran about three years ago. The fact that after his long journey, face-to-face language courses were hardly possible in Corona times was the least of his problems at the time. "I came to Germany via Turkey and Greece, started from scratch here," he explains. The job at the extrusion in Tanna is his first in Germany, and he will be employed there for five months from May 2021. When his Iranian papers are certified, he presents GEALAN with the recognised documents, including IT training. A win-win situation opens up: "We were looking for someone to assist us in IT support in Tanna," explains André Spranger, his supervisor at GEALAN, "and Mr Kamandar offered his expertise. Besides, he himself also wanted to return to his actual area of responsibility." The plan is for Mohammad Kamandar to look after the industrial IT at the site, which means, for example, fixing IT problems on production equipment, maintaining computers, monitors and printing solutions installed on machines. Andre Spranger: "Our goal is for him to know independently what needs to be done and to be able to take care of it if, for example, the laminating department reports an IT problem."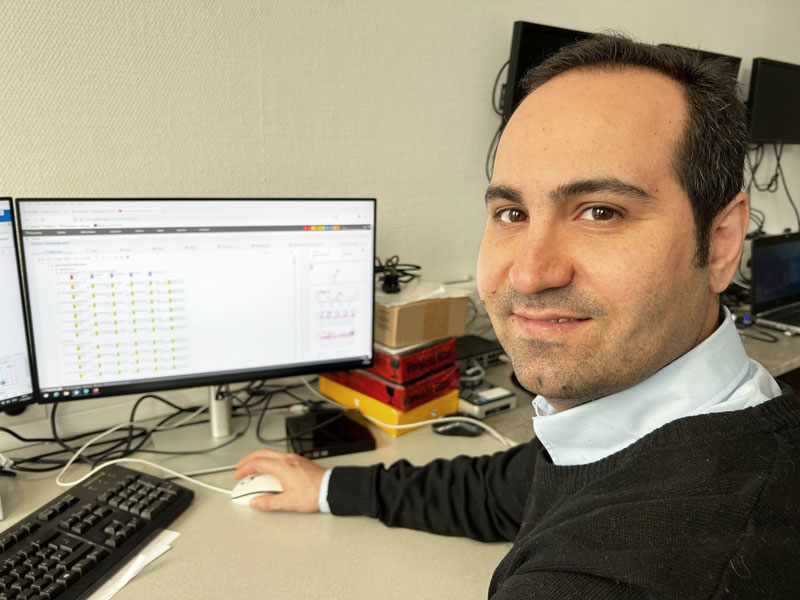 Mohammad Kamandar is currently working two days a week in Tanna and three days in Oberkotzau. The training makes this necessary (for the time being). Sooner or later, he will work four days in Tanna, where technical problems cannot usually be solved remotely. He will then spend only one day with the rest of the IT team: "He should be where he is needed as often as possible, but still not lose touch with the team," says André Spranger, describing the intended model.
Mohammad Kamandar is happy to be able to contribute his skills at GEALAN: "Working in production was new to me, I had to learn everything from scratch. Working with computers, software and networks is what I can and want to do." The familiarisation with the new job is bearing fruit; little by little, Mohammad Kamandar is acquiring what he needs for his daily work, so that he will soon be able to help his colleagues in Tanna run smoothly on their own. "He is very interested and gets involved," the supervisor praises the new colleague's commitment. "He deserves the chance to develop here. And he can also contribute his skills even better for the good of GEALAN."