Jaunius Šileikis leaves the company showing the best results in its history and at the highest point since its establishment and joins the team of managers of VILMA group of companies, and will take the position of Deputy Director of VILMA, CEO Edmundas Pigaga.
Company Vilma specializes in the production of electrical installations, telecommunication networks and special automation and machinery. This company is a leader in the Northern European region, and the main buyers of the company's products abroad are Germany, Sweden, Great Britain, and majority of Lithuania retail companies.
Jaunius Šileikis, Former General Manager of GEALAN BALTIC (Foto: Rytis Galadauskas)
"Life does not stand still, everything is changing and improving in today's world. It is time for change and in the structure of our companies. GEALAN BALTIC has grown into a large, innovative, modern European company with 23 extruders and more than 300 molds, producing PVC profiles for windows producer not only for Baltic States region, but for whole World. I leave GEALAN BALTIC in good technical and economic condition and I am sure that the new manager, who has been a part of our company for many years, will continue to lead in the direction of development, modernization and expansion", - says Jaunius Šileikis.
Thanks to stable markets in the Baltics and other regions of Western Europe, as well as dedicated employees and flexible, innovative solutions, GEALAN has successfully weathered the turbulent year 2020. Aiming to further develop innovations, use efficient solutions for their customers and position further on GEALAN as a most innovative system provider in the industry, GEALAN managing directors Ivica Maurovic and Tino Albert are optimistic about the coming year.
"Our very big thanks go to Jaunius Šileikis, who has done an excellent job and put GEALAN BALTIC on a very solid foundation. Not only is he a great leader, Jaunius Šileikis was part of our GEALAN family for a very long time and we wish him all the best in his further career", - states Ivica Maurovic, Managing Director of GEALAN BALTIC's parent company GEALAN Fenster-Systeme GmbH.
"Jaunius Šileikis has handed over a very well-functioning company to his successor and his team, and we are all convinced that GEALAN BALTIC will continue to be on the successful track with its new set-up", - Tino Albert concluded.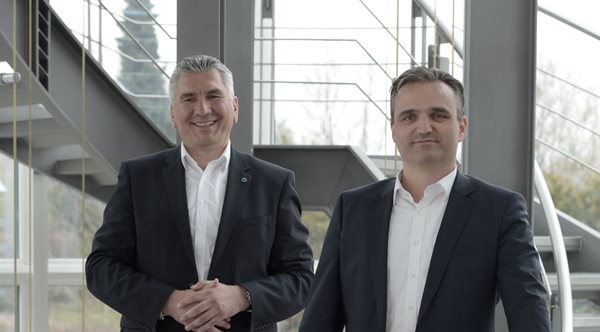 Ivica Maurović and Tino Albert, Managing Directors of Gealan Fenster-Systeme GmbH


Commerce Director Rytis Šmerauskas takes over the management

Rytis Šmerauskas becomes the new Managing Director of GEALAN BALTIC, who has successfully headed Commerce department for 11 years. He will be assisted by long-term Deputy Director Mrs. Inga Valainytė.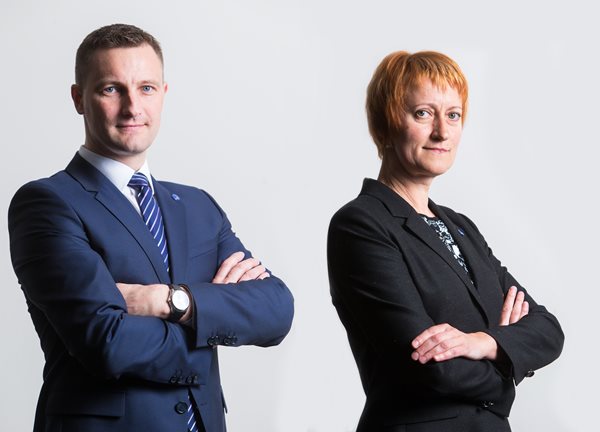 New Managing Director of GEALAN BALTIC
Rytis Šmerauskas
and Deputy Director
Inga Valainytė
"I have been working in the window manufacturing industry already for 25 years, 11 years of which in GEALAN BALTIC. Therefore, every part of the company is familiar as my own, and the people who work here have already become a second family for me. I hope that my accumulated experience, knowledge of the company, together with the people working here will help GEALAN BALTIC to continue to grow rapidly and reach new heights", - says
Rytis Šmerauskas
, the new Managing Director of GEALAN BALTIC.
GEALAN BALTIC sales team is strengthened with a new member -
Paulius Aleksejevas
will join the company and will lead the Commerce Department.
Sales Department will continue to be headed by
Rimgaudas Kruša
, the Purchase Department by
Darius Macevičius
, and the Marketing Department by
Aleksandras Kučinskis
, who will henceforth be responsible for Product Management, too.
Giedrius Mastavičius
will head the newly created Architects and Technical Support Department, while
Laimonas Zmejauskas
will continue to lead Quality and Window Production Technology Department and
Mindaugas Jonušas
will continue to manage Production Department.
Growth trend of GEALAN BALTIC
As previously announced,
GEALAN BALTIC is preparing for expansion
due to growing orders and production needs of the parent company GEALAN Fenster-Systeme Gmbh, as well as orders of the company's customers in the Baltic States, who export their products to Western Europe and the USA. In addition, new customers appear every year, mainly from the Baltic countries, which also encourages an increase in production.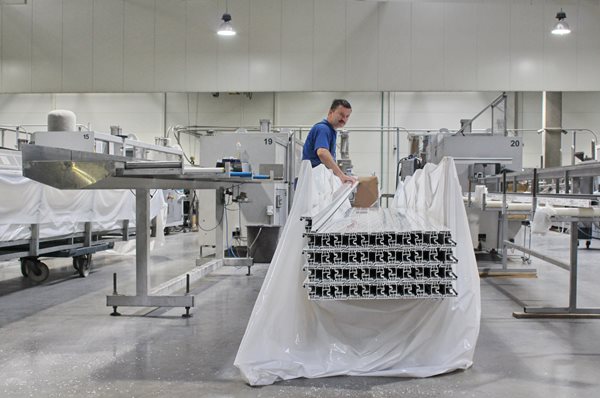 GEALAN BALTIC is expanding production and plans to grow by up to 10% in 2021

GEALAN BALTIC annually invests 1.0 - 1.5 mil. EUR to expand and renew production. In year 2021 up to 10% growth is planned and an additional 10-12 new employees are also planned to be hired. The company currently employs 150 people. GEALAN BALTIC sales revenue in Baltic States increased by more than 25%, when the total sales revenue from 25 mil. EUR in year 2019 increased to 27.6 mil. EUR in year 2020.