According to the IRU report, there is currently a shortage of between 380,000 and 425,000 truck drivers in Europe. Significantly growing demand and the rising average age of drivers will further exacerbate the problem of driver shortages in Europe in the coming years. The job profile of truck drivers is also not considered very attractive: While good salaries are now being paid, the working hours or challenging traffic situations on Europe's roads are leading to fewer and fewer young drivers.
The study shows a topic that has been known for some time, but whose effects are now coming to a head decisively. This is already becoming increasingly noticeable for private individuals, who are increasingly faced with empty shelves in the supermarket because goods cannot be delivered.
"We will continue to manage to get our products ready for shipment on time in the future. The bottleneck will be distribution!", says Erik Drescher, Group Manager Distribution Logistics at GEALAN, summing up the impending problem in the transport of goods. What is looming as an additional challenge: Until now, there has always been the option of accessing Plan B in the event of serious bottlenecks – which was: "For more money, you always got more freight space. This means that before goods cannot be delivered on time, it is better to accept additional costs and order even more trucks." However, if the shortage of drivers comes to a head, this option is no longer available.
GEALAN has to make several adjustments
What can be done to be able to deliver reliably in a few years' time? "We have several adjustments that we can and must make," says Erik Drescher, describing the strategic approaches that are intended to make GEALAN future-proof for the transport market: "Ultimately, we always operate in three fields of action with our measures: On the one hand, it is about freight costs, on the other hand, about the use of resources and technology, Important: GEALAN has the opportunity to act even more efficiently and thus even more sustainably with the right measures, and to further minimise the company's CO2 footprint with many thousands of loads per year with small, well-thought-out adjustments.
Especially in the use of new technologies, there still seems to be a lot of potential for improvement for companies. Even though GEALAN already has an intelligent route planning and control system in use, uses distribution logistics networks throughout Europe, reduces delivery routes based on data and orders more jumbo trucks with larger cargo space – not all means have been exhausted here: "One possibility would be an increased use of so-called semi-autonomous trucks, i.e. a truck driven by the driver drives ahead, several trucks without a driver line up behind it in the convoy, by means of sophisticated vehicle and GPS technology aligned with the lead truck. This platooning, as it is also called, already exists in test series. But many legal and transport policy hurdles still prevent it from being used on a broad scale," explains Erik Drescher.
Another approach is to decouple drivers and trucks. This would mean: "You take a close look at the flow of goods, look at where imports and exports meet, for example. At such junctions, the drivers then take over another truck. They continue to steer it in the direction from which they themselves come. For the drivers, this would mean that they would be back home earlier because they would not be able to complete complete tours with their truck. The job profile of the driver would thus become more attractive again if he could sleep at home in his own bed more often in the evening."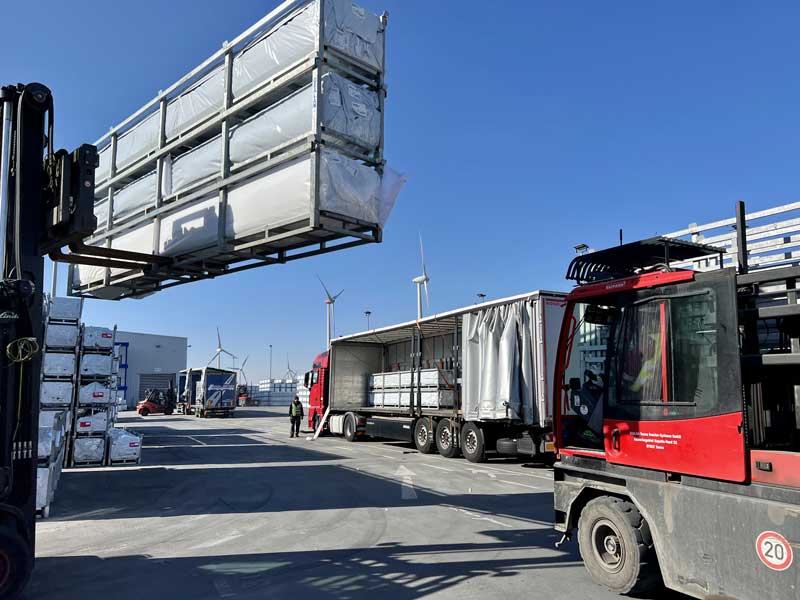 Make processes more flexible, improve yard management
GEALAN's delivery logistics also need to be addressed, as Erik Drescher describes: "At the moment, we are driving according to fixed route plans, whether the truck is full or half-full. This means that the trucks leave because they have to be at the customer's site on time for the delivery date. There are a number of approaches here to make the processes more flexible, so that the transport only starts when the truck is fully loaded." The vision of the GEALAN logistics company: "We want to increase customer benefits. But not by saying I'll come to you five times a week to deliver each bar individually – but by delivering his material bundled together when it is needed in that quantity." This approach would be played into the hands of the fact that, due to numerous economic and political imponderables, many companies are now filling their warehouses significantly more than before, in order to better cushion any disruptions in the value chain.
Another major topic for the future in the transport market is so-called yard management. The aim here is to optimize time slots on the company premises for loading and unloading. "This affects a lot of parameters," Erik Drescher adds: "Avoiding narrow entrances and entrances and providing sufficient parking spaces is just as much a part of this as minimizing the bureaucratic effort of truck drivers. Unfortunately, what is still missing at the moment is the digitalization of many processes in order to equalize transports on the company premises and prevent unnecessary waiting times: "At the moment, we know on which day a truck will come to us. But we don't know if he'll be at the gates at 8 a.m. or at 4 p.m. This means that we manage a lot flexibly, but it also means that you have unnecessary traffic jams when many trucks arrive at the same time, but there are also idling times during which we could actually load significantly more."
For its part, the IRU is examining ways to keep more truck drivers on the trestle in the future and is initiating, for example, lowering the minimum driver age to 18 years (in some cases still at 21 years) or enabling financial support for training and truck driving licences. At the same time, GEALAN is doing its homework to be able to face an imminent shortage of drivers in the best possible way – despite all the efforts of the IRU.