Selected GEALAN profiles will soon appear seamlessly high-quality at first glance: the proven premium surface GEALAN-acrylcolor® will be enhanced with a dark base body starting in September 2023. There will be a choice of three dark GEALAN-acrylcolor® trend colors on the outside and six harmonizing dark decorative foils on the inside. Completed with a dark gray base body, the result is window and sliding elements that offer the highest aesthetics from every perspective.
Optimized materials prevent heating
The superior appearance is visible and tangible: When opening or tilting the windows, the dark harmony already stylishly catches the eye. Optimized materials round off the premium variant in a manner befitting its status: Sophisticated polymer formulations prevent the dark profiles from heating up in the sun and thus prevent possible deformation of the PVC profile.
Countless delivery variants possible in dark aesthetics
Only the best for the new premium combination: in the future, the proven GEALAN-acrylcolor® surface will blend with the dark base body in its top colors RAL 7016, RAL 9005 and DB 703. While on the outside the high-quality PMMA enhances the dark GEALAN profiles, as a counterpart for the inside there will be a choice of six matching decorative foils in the future, from anthracite gray to black to DB 703. This creates a wide range of possible combinations with which the dark aesthetics can be individually and harmoniously designed.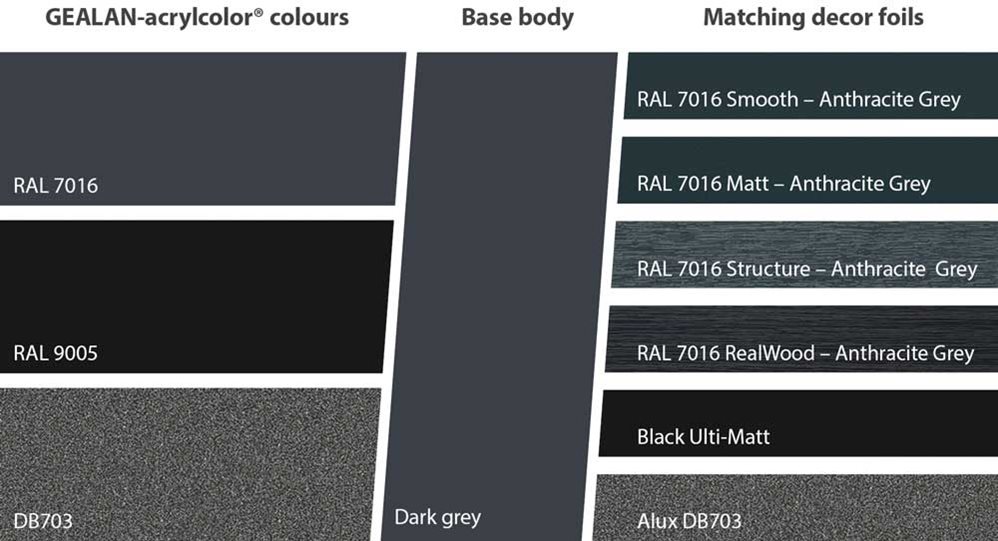 Such dark works of art, consisting of an attractive premium surface, a grey base and matching decorative foils, are possible in the GEALAN systems S 8000, S 9000, S 9000 HST, S 9000 NL, GEALAN-KUBUS®, and later in the new premium system GEALAN-KONTUR®. GEALAN continues to follow the sustainable path of recycling materials in the new combinations: Thus, even the dark profiles are equipped with recycled cores in a resource-saving and environmentally conscious way. GEALAN makes the new premium profiles available in even the smallest quantities: Orderable from September 2023, the dark profile combinations with named GEALAN-acrylcolor® trend colors are already available from one profile bar.
About GEALAN-acrylcolor®
For more than 40 years, the proven surface technology GEALAN-acrylcolor® has been consistently developed further. Windows with GEALAN-acrylcolor® meet the highest technical and functional demands for innovative, colored surfaces. The premium surface from GEALAN makes the refined profiles durable, scratch-resistant, weather-resistant, lightfast, resistant to dirt and easy to clean.
GEALAN-acrylcolor® in facts and figures:
More than 5 million profile meters with GEALAN-acrylcolor® surface are extruded annually.
35% of GEALAN profiles in Germany are already finished with GEALAN-acrylcolor®.
GEALAN-acrylcolor® is available in 63 colors / 6 metallic colors / 9 standard colors
New tri-extrusion tools enable recycling rates of more than 55% for GEALAN-acrylcolor® profiles
GEALAN has the highest technological expertise in its own tool manufacturing at its headquarters in Oberkotzau, Germany
GEALAN-acrylcolor® is constantly being improved through material research and quality testing, and expanded in terms of colors and components.
More information about the premium surface GEALAN-acrylcolor® can be found here: https://www.gealan.de/en/innovations/gealan-acrylcolor/