The 3D printer releases the new system's first band patterns – profile sections measuring approx. ten centimetres in length. 'We don't build complete windows from these. We use them to test seals, small attachment pieces and system components such as forend caps', says Rafael Finger (56), Head of Application Technology at GEALAN in Oberkotzau. 'Printed profiles aren't only suitable for carrying out further tests because of their brittle material. The first profiles actually extruded from a new system are provided by our own in-company Running-in Technology Centre.' Finger and his team use these to build prototype windows and test elements. In the test centre next door, these are then tested for air permeability, driving rain tightness and wind load resistance and subjected to mechanical stress, heat and cold. Finger and his colleagues subsequently inspect each individual test element in the Application Technology Centre.
If a new profile system is ready for market, the Technology Centre supplies customers and interested parties with band patterns and pattern angles made up of window frames and sashes. It sends exhibition elements and skilled experts to international trade fairs and provides items for training: 'Seminars on window installation are carried out in the GEALAN ACADEMY and experts provide explanations on glazing and how to assemble lift-and-slide doors as well as front doors. GEALAN also holds seminars in collaboration with manufacturers of fittings, foam or sealing tapes.'
From one practitioner to the other: the Technology Centre team is the contact for window manufacturers. It provides advice on building special elements and lends support to new customers during their transition to GEALAN systems and helps existing customers be trained on new systems. 'We assist customers by quickly processing complaints in a solution-driven manner', says Rafael Finger. 'We can touch up damaged surfaces, apply wax, and sand off, remove and reapply foils. If the seal gets contaminated, we check if an incorrect glazing strip was used. If a customer is having problems cutting foil-wrapped profiles, we help them.' The Application Technology Centre's on-site services include delivering replacement sashes to building sites and carrying out the replacement – the reclaimed item is measured precisely and then disassembled and analysed in the Technology Centre: Is the required steel reinforcement intact? Is the window too large? Is the glass too heavy? Is the sash properly ventilated? 'During my long time at GEALAN, we have been able to pinpoint the cause of every problem and fix it.'
Rafael Finger's long time at GEALAN stretches back to 1992 when he was hired to work as an Application Engineer. The carpenter and cabinetmaker was there in 1994 when the Technology Centre was relocated to Döhlau just a few kilometres away, and also when it made the move back to the company headquarters in Oberkotzau in 2018. Today, he heads up a team of nine – his colleagues once worked as carpenters and joiners, glaziers, mechanical engineers, metal workers, radio and television technicians.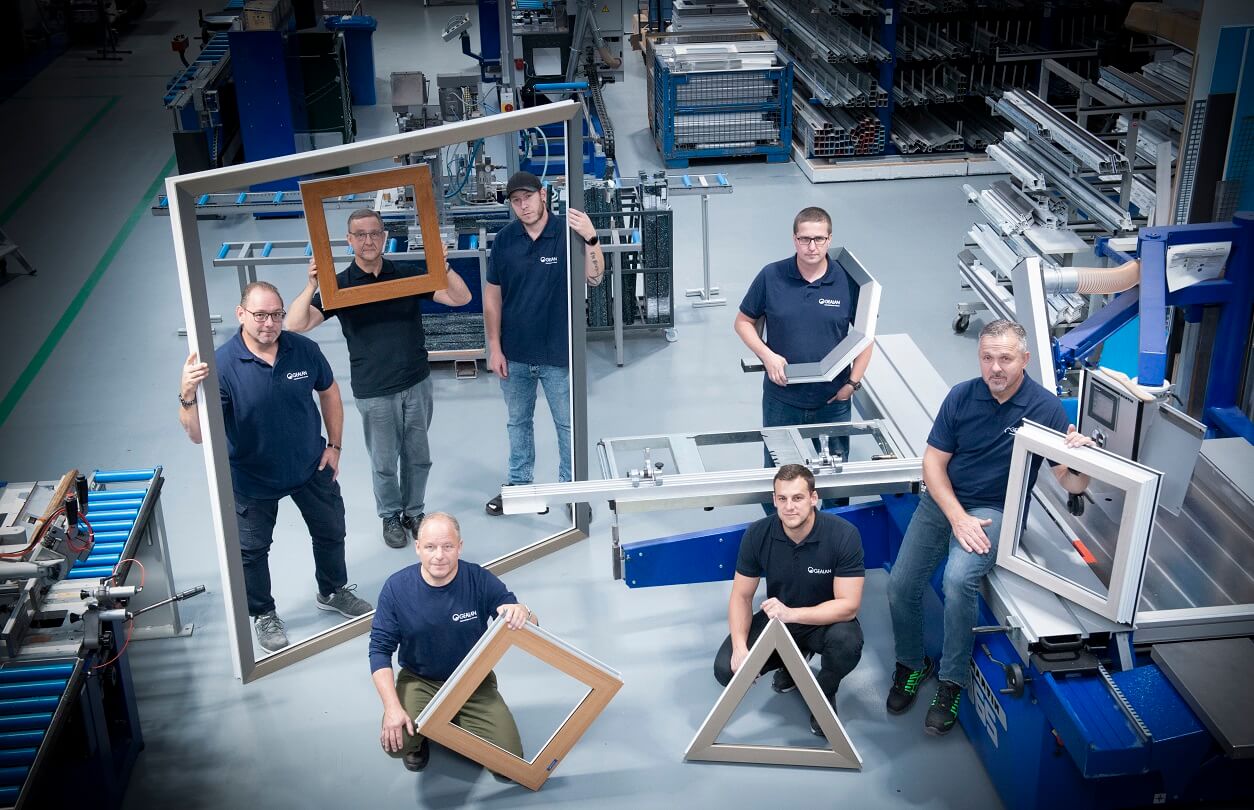 [Hinten von links: Holger Strobel, Stefan Purfürst, Christopher Mäusbacher, Stefan Feige.
Vorne von links: Bernd Göttlicher, Philipp Selge, Rafael Finger.]
The Application Technology Centre is designed like a small window manufacturing company. Its 1,070 square metre space is divided into a machinery room and a working space. 'We don't have any large processing centre for large quantities, but we are able to produce windows just like our customers using smaller standard machines and special purpose machines', says Finger. The goal is to always be on the cutting edge. A glazing bead saw is the latest addition to the machine fleet. A CNC drilling unit in the Prototyping department supports employees. It automatically puts holes in band patterns which would otherwise have to be punched by hand. Modern welding machines eliminate the need to tidy up corners. 'The possibilities of digital mechanical control systems are impressive. 30 years ago building windows still involved a lot of hands-on work. Know-how is no longer just about manual skills today but also about using high-precision tools proficiently. Back then, we emptied out the order box in the Engineering department to find out what we had to do. Today, our Technology Centre is integrated into GEALAN's digital structures.
Rafael Finger is particularly proud of the level of cleanliness and accuracy displayed by his people. They would never ship a pattern which hasn't been cleaned or which has been poorly packaged. And he commends the way the Technology Centre works together: 'Everybody helps each other. That's why we can react so swiftly and flexibly when we are needed.'