Tanja Avci (44) bounces up the stairs. The path to her desk in the morning has recently been leading her to the third floor. 'Once I take a seat, I need to have a coffee to calm me down first', she jokes. As Team Leader Human Resources, Tanja Avci is among the first at GEALAN who gets to enjoy the new office environment because her department is the pilot project: she was the first to move into the 'multispace' (as she calls it) or the 'open space' (as others might say).
The plan to modernise GEALAN's offices at its site in Oberkotzau was conceived many years ago. Tanja Avci has been supporting the entire process as part of the project team since 2018. 'The new design concerns everybody working in the Administration department, from the Managing Director right down to the clerk', she says. The fact that everyone was brought along and involved was very important at every stage. 'Making a change like this is only possible together.' The project isn't being carried out from the top-down. Management might provide a few guidelines, but it leaves the finer points and details entirely up to the employees.
One of the guidelines is to do away with individual offices. Management's not even allowed to have them. This is a huge step because it, of course, means a stop to old privileges. GEALAN understands that transformation means breaking with old habits, leaving your comfort zone and daring something new. The second guideline stipulates that we focus on workflow-oriented work. Employees don't sit with each other because that's the way things have always been, but rather because the work process and work logic determine where they should be. This might not be so important for departments such as HR because 'we can sit all over', says Tanja Avci, but in the case of other departments which are directly related to each other in terms of content, it is: 'That is why we are putting Product Management at the core and arranging System Development, the Engineering department, Materials Management, Sales and Marketing around it on one floor and in one area – that really is the concept's "big achievement".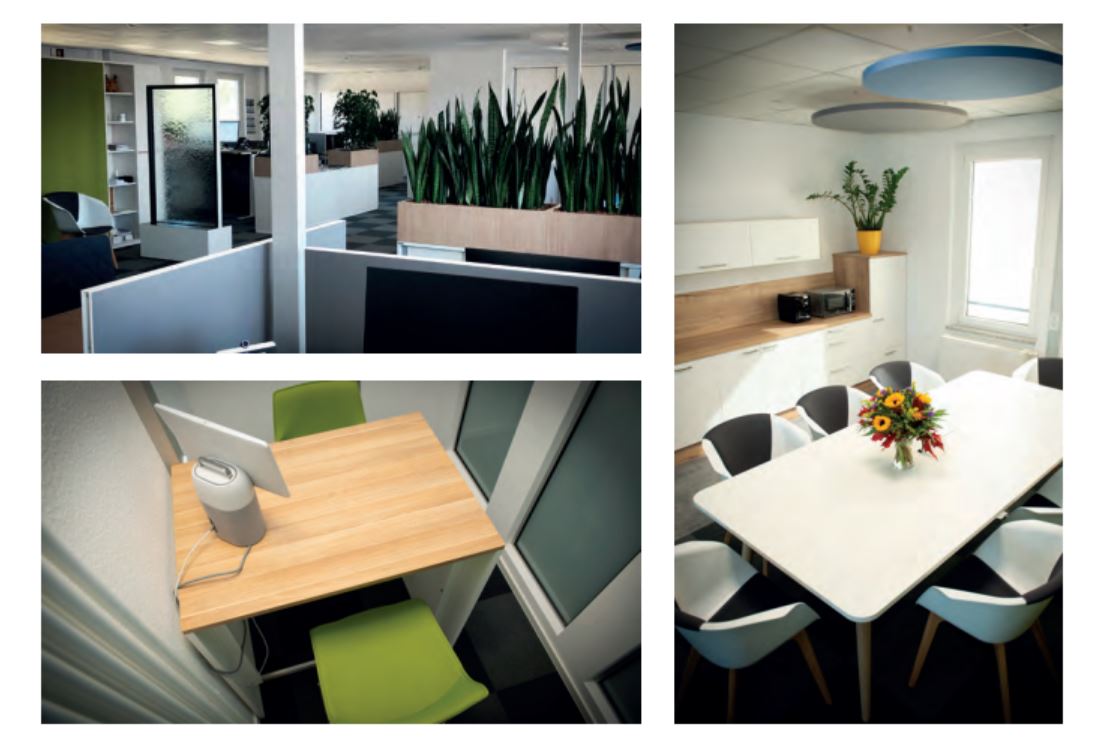 What market segment do you design a product for, why is it designed in this exact manner, how do you translate the innovation into sales arguments, how does customer feedback influence the next system design – all these things are directly interconnected and dialogue is promoted by being in close proximity. Nobody has to pick up the phone or venture to another office to clear up a question. Communication just automatically picks up in the multispace. Everybody is kept abreast of the latest. Shorter lines of communication are created, thereby increasing efficiency overall and benefiting everyone. 'Development cycles for our products are getting shorter, we have to make decisions faster, and we need to be sharing with each other on a constant basis, in order to also cope with the growing complexity.' Silo mentalities where it's everyone for themselves and you cut yourself off, that only leads to misunderstandings. 'Our objective is to have everyone know how their decisions impact others. For everyone to know how we are interlinked.' The new offices must serve this great purpose of increased exchange and greater communication. They aren't a status symbol.
GEALAN thinks outside the box. 'We first wanted to see how others are doing things and to explore best-practice examples. To see how others are creating modern office environments and new ways of working.' The project team, consisting of members from the HR, Organisation, IT and Facility Management departments, checks out a software company but also ideas from the Fraunhofer Society and Audi. 'A lot of things sound good in theory', says Tanja Avci. 'But only when you take a look at real examples can you really make a decision.' What works for GEALAN and what doesn't? One thing is clear, however, after the first findings: 'Having everyone share desks and not have their own permanent workstation is not something we want. One of our goals was to create a home, and that's not something I can do if I am working somewhere different every day', says Tanja Avci. 'On top of this, we may work on a project basis, but this is not all we do.' The open-plan office as traditionally seen in the USA is also not an option: 'This set-up in a row like in a call centre where everyone hides because they can barely concentrate and because it's too noisy would have been anything but progress for us.' GEALAN isn't hell-bent on having large rooms, instead it wants meaningful synergies.
'Under no circumstances did we want to be blind to the company's own shortcomings, but instead purposely rely on the input of external parties, of professionals', says Tanja Avci. GEALAN calls in the experts. The contract goes to a big player: VITRA, which is known throughout the world for its classic designs such as the Eames Lounge Chair and Panton Chair, will handle the design. A delegation from GEALAN travels to Weil am Rhein where the VITRA campus and its iconic buildings such as the Design Museum are located. With VITRA, a whole new hand of cards is 'literally' being dealt for the new offices. During the strategy workshop, the floor plan drawings for GEALAN's Administration department are laid out on the table floor by floor, the division managers place cards on top of them, position the divisions and choose where and how many workstations there need to be. The fine-tuning will be carried out by staff at a later point in time during the user workshop when they will then fill in the rough plans with cards: one card for a double disk, another for a printer, one for a closet, one for a coffee machine and another for a quiet zone. This is how the plans start taking shape – card by card. The workplace consultants and interior designers at VITRA let all this flow into the design.
Height-adjustable desks with more working depth and new comfortable chairs at the workstation – the divisions choose the colours themselves – creative zones with stools and flip charts, meeting zones where people can also have a casual cup of coffee every now and then, air filters, sound absorbers, plants and lots of light throughout – the new offices are immediately inviting. It's important that there are also places for everybody to seek refuge. 'Confidentiality was a huge issue', says Tanja Avci. 'A managing director of course has to be able to talk about things in peace, but every employee also has this opportunity: if I want to talk on the phone in quiet or join in on a videoconference, I use the box for one-on-one discussions or one of the other meeting rooms.' That's the only way for the multispace to really become a free and open space. Stubbornly pushing through an idea is not an option for all parties involved. 'We remain flexible. If something's not working, we change it.' GEALAN likes thinking independently.
Digitality plays a major role in the offices: laptop workstations, the use of mobile devices, headsets, options for visualisation, remote access, a comfortable environment for videoconferencing – it's all taken into consideration. Digital tools often don't require you to be there in person anymore. That's also why the option of working from home two days a week is part and parcel of GEALAN's new work concept. 'The office design is based on approx. 75 per cent of staff working in person at the site in Oberkotzau', says Tanja Avci. The new spaces and their pleasant atmosphere could, however, provide some with a reason to work less from home and be in the office more.
'Of course, there were also some concerns in the beginning', says Tanja Avci: 'Will I still even be seen as an individual in the spacious rooms? What will the background noise be like? Will I have enough storage space? What if somebody has a cold?' Taking these concerns seriously was an important part of the process. It was always clear, however, that GEALAN's choice is for change and not for staying put. Because ultimately the advantages clearly outweigh the disadvantages. 'I am able to work better here in our new office', says Tanja Avci. 'In a two-person office, it's difficult to stay focused on something when the other person is on the phone, for example – this is much easier here because the sound level is spread out over the larger space. Communication becomes more important: I talk to my colleagues more, and I feel like it is easier to come together and stay in touch with one another.'
The third floor is finished, the construction of the second floor is slated for 2023, and the first floor – the core element and biggest change – will follow directly thereafter. That's how what VITRA calls 'Net 'n' Nest' is being turned into a reality at GEALAN, little by little: the office serves a communication centre whilst also offering a place to retreat to. 'A home really', says Tanja Avci. 'And a pretty stylish one at that.