For the first time, the trade audience was treated to a presentation of GEALAN-KONTUR®, a premium design system with an aluminium option, and GEALAN-COMFORT®, a floor-level threshold solution that is based on an updated GEALAN threshold system.
In addition to the two new developments from GEALAN, the special features and new designs of selected proven systems were also explained at the International Future Forum. New technologies were also discussed, such as the Smart Home solutions by TEXINO.
GEALAN-KONTUR®: The premium design system with aluminium option
Beautiful, versatile and safe: The premium system GEALAN-KONTUR® ensures top performance values, from thermal and sound insulation to burglary protection. The new system development in the 82.5 mm segment was presented for the first time by André Wünsche, Head of Product and Innovation Management at GEALAN.
ELEGANT. ROBUST. VERSATILE.
GEALAN-KONTUR® is the all-rounder among modern PVC profile systems. With its sleek, clear design language on the outside and inside, the system sets accents in terms of window design. Narrow visible widths and a maximum amount of glass also provide more light indoors.
GEALAN-KONTUR® offers not only the latest design language, but also a wide range of surface design options. In addition to classic surfaces and a comprehensive foil programme, from 2024 you will also be able to opt for the GEALAN-acrylcolor® PMMA finishing. Furthermore, the new premium system enables a trendy aluminium design thanks to aluminium cladding system techniques – in an extensive range of colours from the RAL colour range.
ROBUST ALUMINIUM FINISH
GEALAN-KONTUR® PVC profiles are optimised for combination with different aluminium cladding surfaces in high-level production automation for even greater design freedom with the GEALAN system.
Visually, the modern aluminium look on the outside of the window underscores the architectural trend towards linear, angular window design. In addition, the aluminium cladding surfaces are not only strikingly elegant, they are also extremely weather-resistant.
One special feature of the GEALAN-KONTUR® system that makes even more design variants possible: It includes a sash profile that can only be combined with aluminium cladding surfaces for reduced visible and overlap widths.
Otherwise, these lean profiles offer loads of security and stability! Optionally with two materials that perfectly complement one another: with its multi-chamber system, proven PVC ensures top thermal insulation, while trendy aluminium offers additional protection against weathering and a fixed centre sealing web for optimised burglary protection.
A construction depth of 82.5 mm makes the GEALAN-KONTUR® suitable for new building projects as well as in the renovation sector.
Innovative performance characteristics:
Style-oriented design language
High automation level
Outstanding burglary protection
Wide range of surface designs possible
The premium design system GEALAN-KONTUR® is expected to become available in the beginning of 2023 in white, with decorative foils and aluminium cladding, and in full GEALAN-acrylcolor® by 2024 at the latest.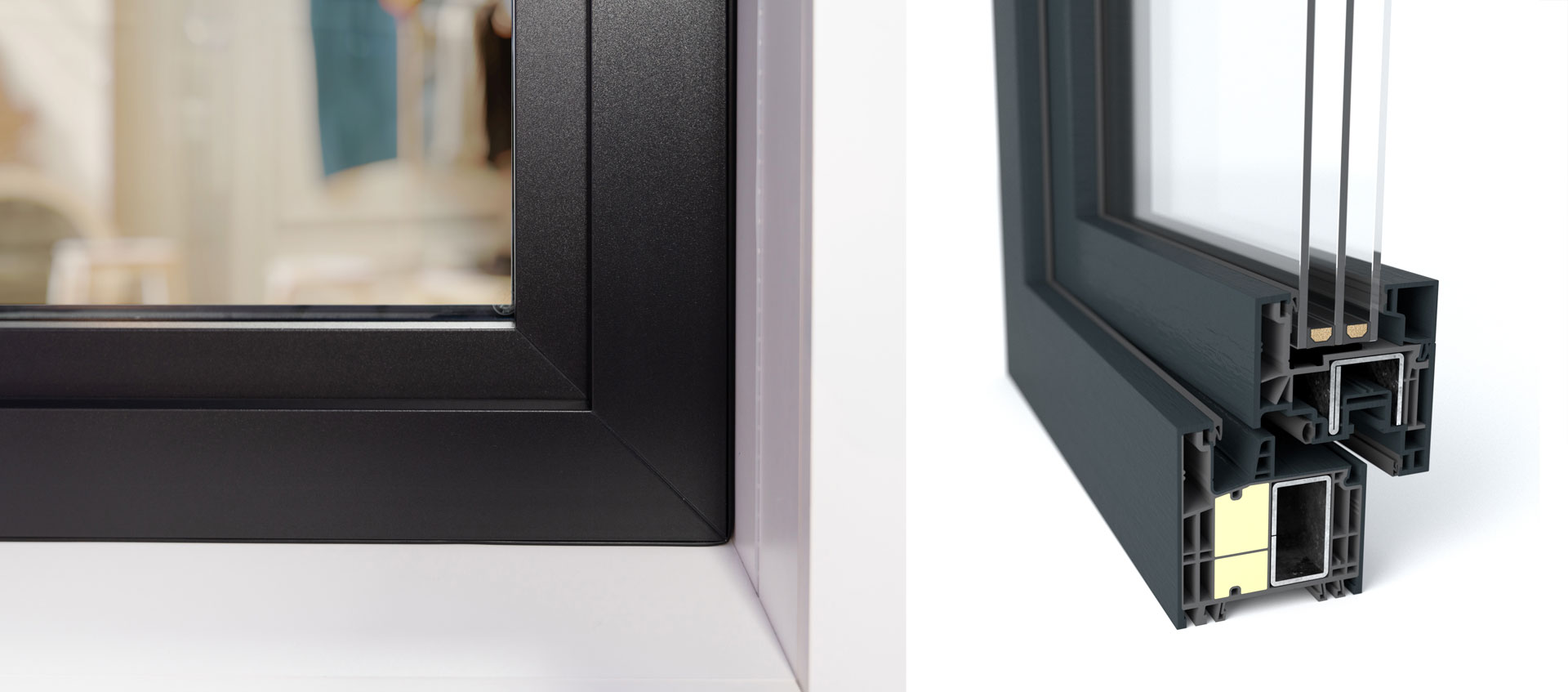 GEALAN-COMFORT®: The floor-level threshold for barrier-free construction
GEALAN is making its clever contribution to avoiding trip hazards and enabling free and safe movement for everyone in every situation with two products: the tried-and-tested combination threshold with its stable and heat-insulating composite of PVC and aluminium and the floor-level premium variant GEALAN-COMFORT®. The corresponding solution was also presented at the International Future Forum 2022.
In the future it will be possible to combine house or balcony doors with a floor-level threshold into an absolute premium product: no stop, maximum system compatibility, highest value.
GEALAN-COMFORT® enables sustainable transitions for all generations. Window manufacturers who already install GEALAN's tried-and-tested combination threshold can build on it with the premium extension and easily implement a floor-level threshold solution. Moreover, GEALAN-COMFORT® offers an aesthetically sophisticated solution with flowing transition without a visible threshold.
ADVANTAGE OF THE MODULAR SYSTEM
Based on the existing PVC-aluminium threshold solution (20 mm combo threshold) from GEALAN as a basis for flush-floor threshold construction
Suitable for house and balcony door elements
Can be used flexibly in all 74 mm and 82.5 mm systems for renovation and new construction
Meets high standards for thermal insulation and tightness
Suitable for all frame variants of the S 9000 system platform (AD, MD, GEALAN-KONTUR®)
Adds value to the tried-and-tested GEALAN system combined with the system expertise of Gretsch-Unitas (GU)
ALUMINIUM TREAD PROFILES FOR FLUSH FLOOR LEVEL COMPENSATION
Are used in front of the drop-down seal
Gap openings between the aluminium profiles are used to drain water from driving rain via the inclined threshold level into the drainage system provided by the customer
PVC support bridges for fastening of aluminium tread profiles to the threshold
OPTIMUM TIGHTNESS GUARANTEED
Mechanical drop-down seal from Athmer ensures driving rain impermeability and windproof tightness
Drop-down seal is integrated into the sash's weatherboard construction
The floor-level threshold solution GEALAN-COMFORT® is expected to be available by the end of 2023.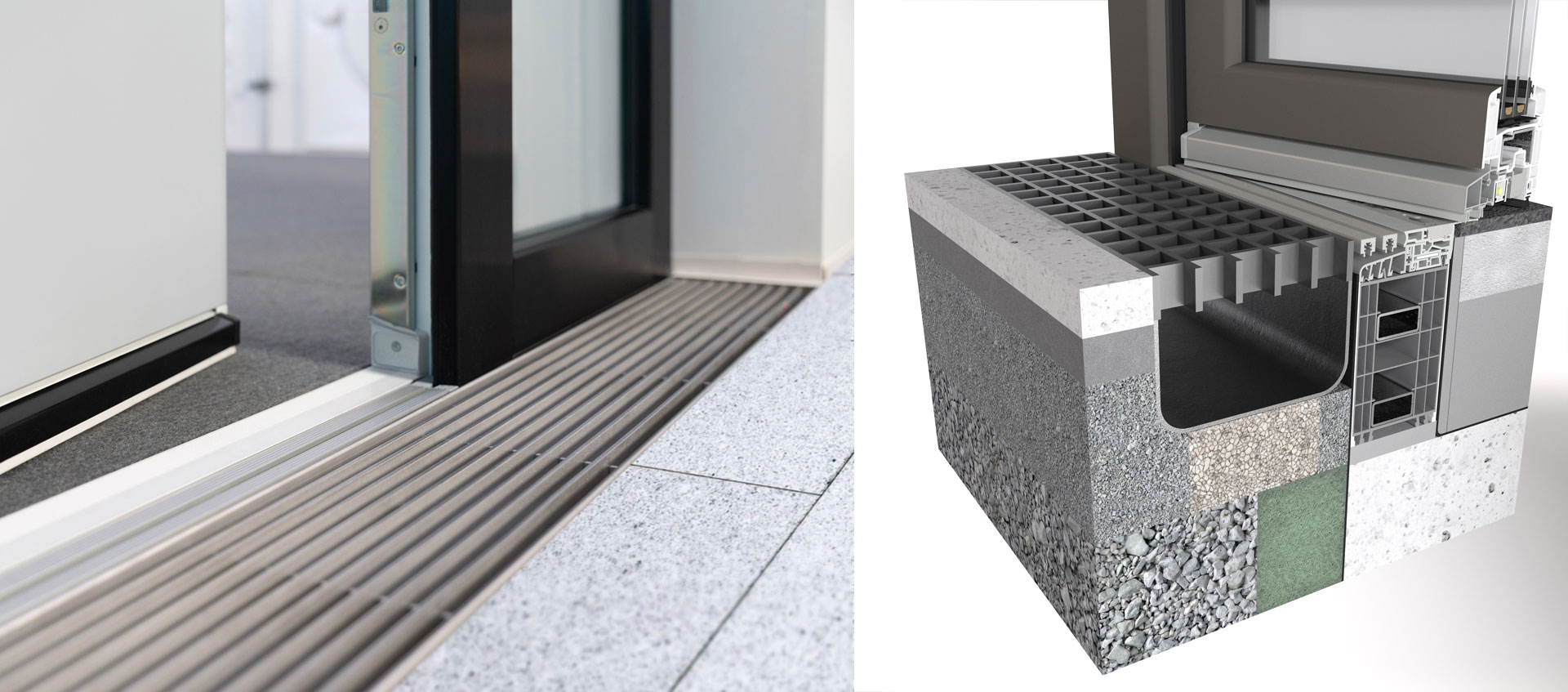 GEALAN-acrylcolor®: The PMMA surface sets new accents
GEALAN has been refining profile surfaces with the original for more than 40 years: The high-quality PMMA finish GEALAN-acrylcolor® has been setting standards for window and door profiles since 1980 – colour-fast, versatile, durable and robust like no other. The application of GEALAN-acrylcolor®, an inseparable combination of acrylic glass and PVC achieved through coextrusion, has been continuously perfected in the in-house toolmaking department for more than 40 years and expanded for use in a wide variety of complex geometries.
Coloured façade design with GEALAN-acrylcolor® window profiles is always possible in new trend colours: currently, the colour palette includes up to nine standard shades and 50 additional special colours upon request.
GEALAN is the only system provider to offer PMMA-coated surfaces in metallic colours. It always guarantees perfect, even colour application with metallic pigments, including the trend colours DB 703 and silver in the standard colour range.
During the International Future Forum, GEALAN's product developers were able to announce an expansion of the on-trend metallic shades in the GEALAN-acrylcolor® palette. The assortment features the new shades gold, bronze and pearly beige similar to RAL 1035 with metallic effect.
The right combination of GEALAN-acrylcolor® surfaces on the outer and decorative foils on the inner frame results in windows that complement and highlight the building's architecture and interior design – a way to transform design visions into a reality in a trendy, yet timeless manner.
More about the outstanding surface technology GEALAN-acrylcolor®: https://www.gealan.de/en/innovations/gealan-acrylcolor/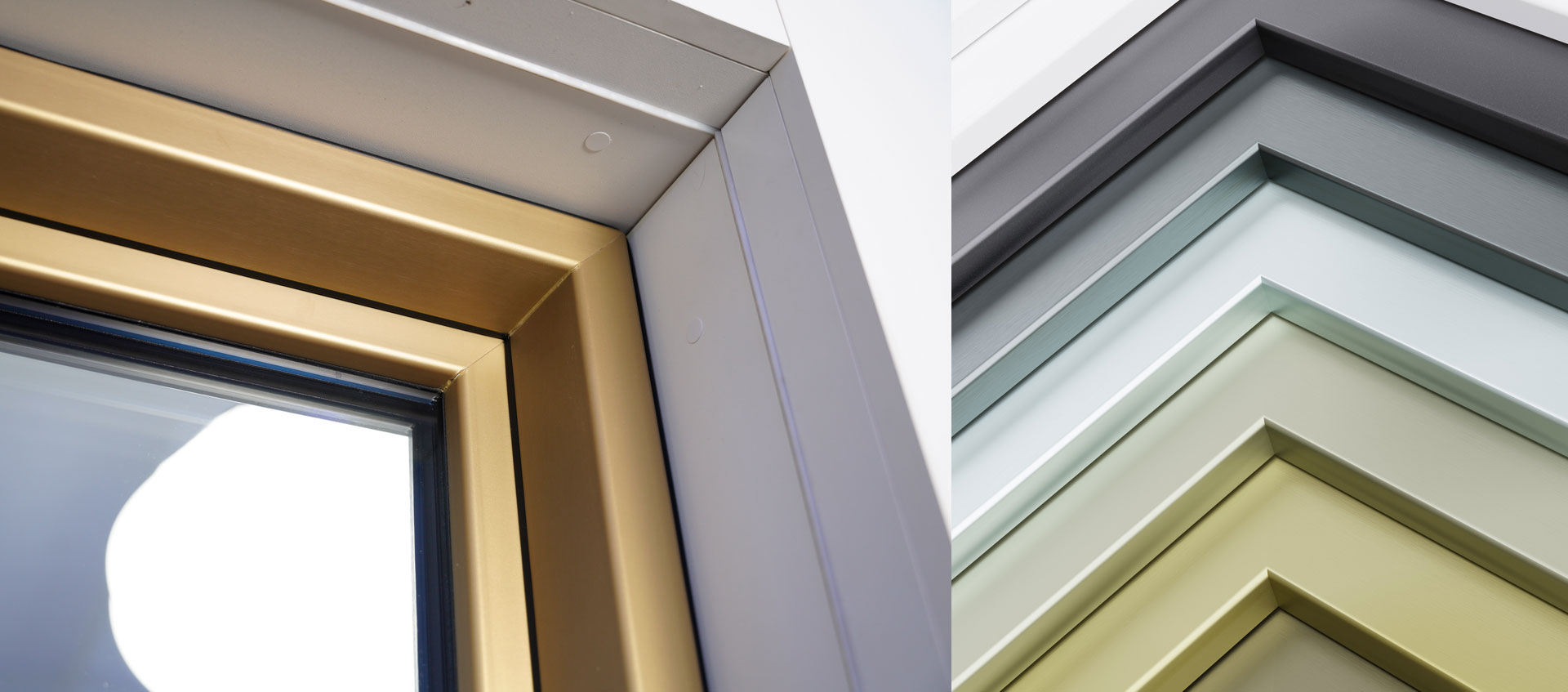 GEALAN-LINEAR®: The new all-round design system in the 74 mm segment
Available since autumn 2021, almost two million profile metres sold already show: GEALAN's new all-round system in the 74 mm segment has arrived on the market. The modern design of the GEALAN-LINEAR® profile system gets top marks: clear-cut, linear and with no frills. It's also narrow in its elevations and allows lots of light to enter your interior spaces. Furthermore, GEALAN's new 74 mm all-rounder has everything that architects, window manufacturers, builders and renovators expect from a contemporary and reliable system.
Visually, GEALAN-LINEAR® is ideally suited to the latest construction trends. Its appearance is clear-cut, angular and uncompromisingly modern. Its external appearance is consistently reinforced internally: in rooms, matching glazing strips and distinct lines for the sashes form an equally striking linear counterpart to the facade.
GEALAN-LINEAR® also impresses with technical details that guarantee outstanding impermeability, thermal insulation and both sound and burglary protection. This is made possible by its three continuous sealing levels and rebate seals on the frame and sash. The design of its third, central sealing level is innovative. GEALAN-LINEAR® thus comes as a high-performance central sealing system based on a narrow construction depth of 74 mm.
Despite all its technical finesse, GEALAN-LINEAR® always remains easy to process and has universal applications. With its construction depth of 74 mm, the system is ideally suited for both new construction and renovation projects.
The GEALAN-LINEAR® system is visually and haptically versatile. The decorative and monochrome foils make a wide variety of designs and standard codes possible: optionally laminated on the outside with a traditional white surface on the inside or laminated on both sides for a particularly high-quality look, or with different foil colours on the inside and outside for more flexibility and individual colour preferences. Different surface structures can also be implemented in the 74 mm profile system: GEALAN-LINEAR® can be finished with traditional foils as well as with matt foils or foils with a RealWood surface. For the base, you can select grey as well as white, clay and caramel colours. Another visual and haptic highlight has already been announced at the International Future Forum: GEALAN-LINEAR® will be available with aluminium cladding later.
A steady and consistent system expansion is also essential for GEALAN-LINEAR®: in addition to window profiles for every installation scenario, GEALAN offers matching house and patio door systems. Sliding solutions are also included in the GEALAN-LINEAR® design: A visually matching sliding sash is available in the GEALAN-SMOOVIO® system. Not fragmentary then, and no compromises made when it comes to appearance either – its design is homogenous.
More about the 74 mm allrounder by GEALAN: https://www.gealan.de/en/systems/gealan-linear/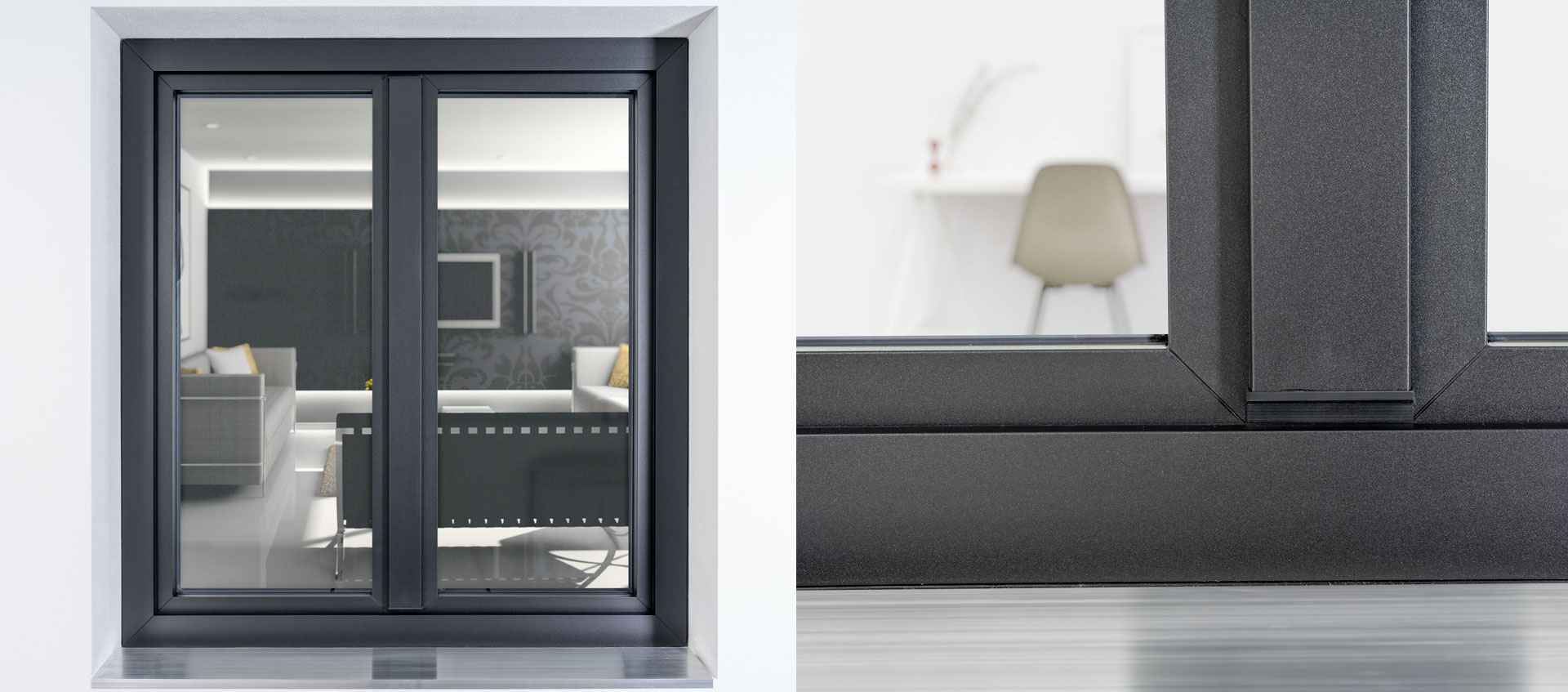 GEALAN-KUBUS®: The premium all-glass system in practice
Innovative window systems open up attractive possibilities for building owners, architects and planners to realise energy-efficient building envelopes with high design standards. GEALAN's The showcase system here is the all-glass system GEALAN-KUBUS®. With its minimal profile views, it ensures a maximum proportion of glass on the inside and outside of windows and balcony doors. Without visible sashes, it supports modern building design with an all-glass look and ensures proper lighting. The latest impressive construction project using GEALAN-KUBUS® is the Vredeskerk in Tilburg, Netherlands. The building, a former peace church and sacristy, is currently being converted into 39 independent studios and two ground floor flats.
Object: Vredeskerk
Site / Country: Tilburg / Netherlands
Colour: GEALAN-acrylcolor® RAL 7039
Year of construction: 2022
Building owner: Hilva Vastgoed
Planning office: Bedaux de Brouwer Architekten
Subcontractor: Wijnsma Kozijnen B.V., Alkulux B.V.
To offer customers beautiful windows with truly distinctive features, the focus in the development of the GEALAN-KUBUS® window system was on consistent design. Therefore, the decision was made to design the frames completely without seals. This created the challenging task of integrating the different functions of the glass seal and frame stop seal in one cross-section seal.
GEALAN-KUBUS® features the highest level of driving rain impermeability, wind load and air permeability. The system dimension is 100 mm for the frame/sash combo as well as the mullion. This means that the mullion and the lateral frame parts have the same face width, which conveys symmetry and aesthetics to the eye of the beholder.
With a tested Uf value of 0.88 W/(m²K), the innovative GEALAN-KUBUS® all-glass system achieves the best performance values and fulfils the criteria of ift passive house compatibility. The excellent thermal insulation properties are achieved through an innovative profile design and the targeted, resource-saving application of IKD® foam technology in the frame profile. With the STV® (Static Dry Glazing) option, GEALAN-KUBUS® is a premium system that combines all GEALAN innovations in one product.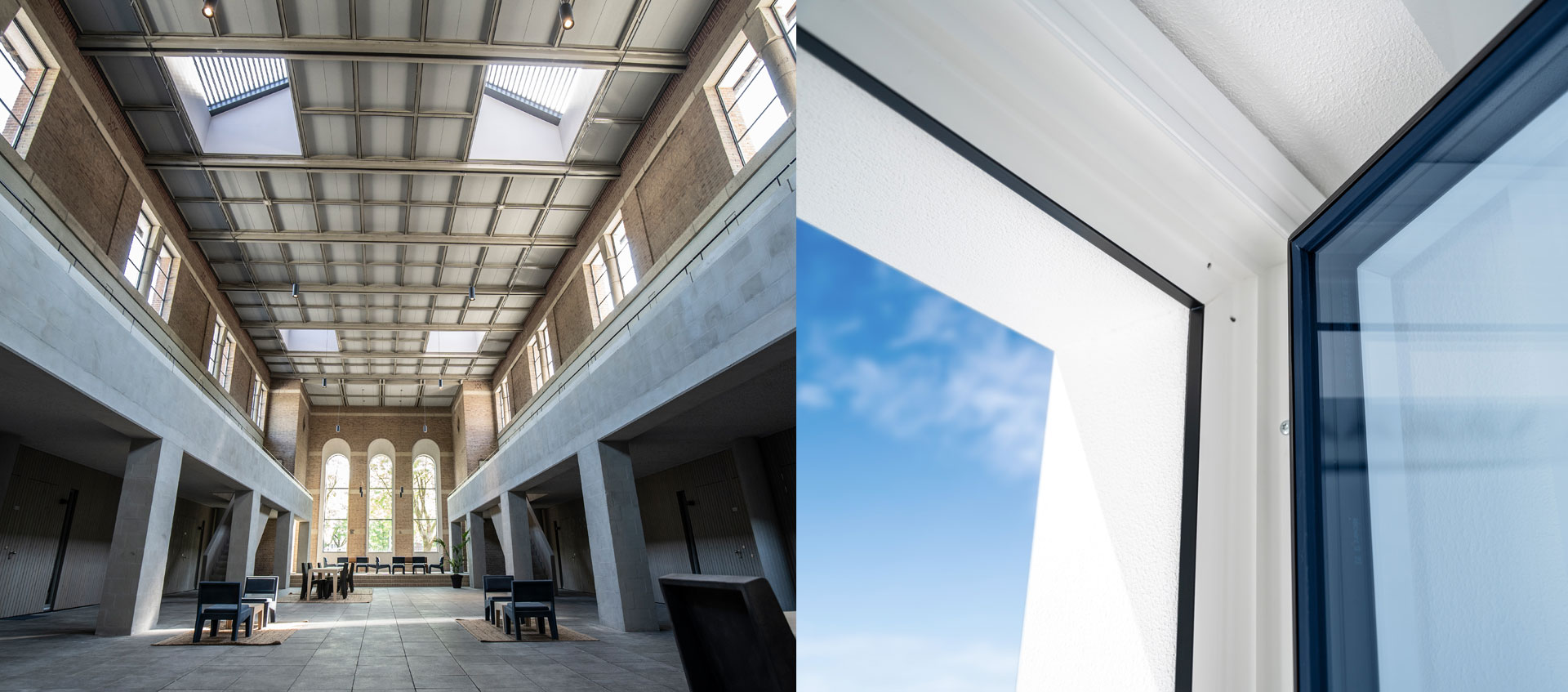 Bonding technologies: New methods in dry bonding STV® and wet bonding
Bonding technology in window construction is becoming increasingly important. By adding wet bonding technology, GEALAN is expanding its range of innovative technologies. GEALAN is now the only system supplier in the market to offer access to different bonding technologies for its profile systems and to provide support with suitable products and application technology.
The bonding technology has several advantages. Window elements are larger and can be implemented with improved statics. More glass surface and slim face widths facilitate a modern design. Furthermore, the torsional rigidity and dimensional stability of the windows are increased.
Bonded windows also reduce the service requirements, provide additional transport safety and reduce weight if steel reinforcements are not required.
STV® (Static Dry Glazing):
Combining STV® with traditional steel reinforcement improves the window statics and makes expanded element sizes possible. Time-consuming adjustment and readjustment work on window systems can be reduced to a minimum.
A wide range of sash profiles with factory applied STV® tape gives the window manufacturer more flexibility and allows for smaller order sizes featuring STV® technology.
STV® from GEALAN makes it easy to get started with bonding technology. Even after long periods of use, windows with STV® technology close perfectly; and the ease of use is increased.
Now the proven STV® technology is being enhanced with the ultimate goal of glazing without wetting the elements. With STV®, it is now possible to speed up the glazing process compared to the previous system with tape wetting. The window pane is held in place right in front of the bonding surface by special glass rebate inserts, which can then be positioned in the sash. Once the glass has been aligned, a glass lever is used to press the glass against the adhesive tape and fix it in place. This technology was developed and tested with pilot customers over a period of two years and is currently being implemented.
Wet bonding:
GEALAN has now additionally integrated wet bonding technology into its current systems. This was only possible due to the development of new profile geometries with a glass rebate optimised for wet bonding. These profiles have now been added to the portfolios of the system platforms S 9000, GEALAN-LINEAR® and GEALAN-KONTUR®.
Only adhesive systems with RAL approval are used for the wet bonding process. The bonding performance and the compatibility of their products with GEALAN profiles were comprehensively tested with the adhesive manufacturers. Likewise, all element tests required for RAL adhesive system approval were carried out in the S 9000 platform and passed with flying colours. In May 2022, the RAL quality seal for liquid adhesives was awarded for the GEALAN system platform S 9000; GEALAN-LINEAR® and GEALAN-KONTUR® will soon follow.
Arguments for the different bonding techniques:
STV®:
Quick to integrate into the programme and easy to process
No high investment in machine technology necessary
Can also be used for specific jobs or objects, for example for particularly tall elements
In the S 9000 system, STV® is offered as standard for all sashes, even for colour variants

Wet bonding:
Production processes can be automated by investing in machine technology
Different levels of automation are possible
Vertical or horizontal bonding can be selected
Necessary for glass bonding in RC2 and RC3 elements
Recommended for a high proportion of bonded window elements
STV tape combined with wet bonding:
Suitable for high automation in bonding technology for window elements
Can be used with horizontal glazing
Due to the direct adhesion of the glazing to the STV® adhesive tape, the elements are immediately ready for transport without downtimes
Deformation risks are reduced
More about STV® by GEALAN: https://www.gealan.de/en/innovations/statics-stv/
Digital products: Smart solutions for ventilation and window automation
GEALAN is one of the leading European manufacturers of PVC profiles for windows and doors. The topics of windows and ventilation are linked by an inner logic: Windows are the interface between inside and outside – the ideal point to implement ventilation. GEALAN has rethought the classic ventilation function of windows and improved it technically:
The result is ventilation systems that give windows new, intelligent functions. In contrast to classic window ventilation, they ventilate much more efficiently, comfortably and safely.
The result is the product family GEALAN-CAIRE®: From basic ventilation to Smart Home-enabled comfort ventilation, it offers the right ventilation solution for the window. Architects, planners and ventilation experts design the appropriate ventilation layout based on the ventilation requirement calculation and the individual requirements for ventilation performance (going beyond humidity protection: reduced ventilation, nominal ventilation, intensive ventilation).
Ventilation solution GEALAN-CAIRE® smart
GEALAN-CAIRE® smart is an active ventilation system with highly efficient heat recovery for existing and new buildings. It meets the highest demands in terms of ventilation, energy efficiency and comfort and is smart-home compatible. GEALAN-CAIRE® smart can be integrated into a wide range of profile systems and installed insulated or plastered over; only the narrow air inlet and outlet grilles then remain visible. With visible installation, GEALAN-CAIRE® smart adapts perfectly to the window element on the outside and inside: The surface technology GEALAN-acrylcolor® with its colour variations is available as well as numerous decorative foils.
GEALAN-CAIRE® smart is easy to operate via:
Button directly on the unit
External flush-mounted button, e.g., on the side next to the window
Sensor in the sash or frame
Mobile end device
GEALAN-CAIRE® smart can be integrated into a building network and conveniently controlled by smartphone or tablet via GEALAN HOME. The free GEALAN HOME app is available for iOS and Android systems. Via the Mediola platform, GEALAN-CAIRE® smart is compatible with smart home systems and devices from different manufacturers.
UPDATE CAPABILITY: GEALAN-CAIRE® smart can be adapted to individual customer requirements at any time after installation with the help of function updates. No additional Smart Home components are necessary for this. The technology menu of the GEALAN-CAIRE® smart ventilation system offers technicians a simple configuration option. No app is required for this. Access is directly via internet browser.
New brand TEXINO
Your own rooms, conveniently connected: With TEXINO's Smart Home solutions, you can create a healthy and safe home with just a few clicks. Discover all the possibilities of window and door automation and how to upgrade your home with TEXINO's solutions on the newly created website featuring the new brand from VEKA and GEALAN.
What is TEXINO?
The new TEXINO brand brings the skills of two premium manufacturers under one roof: eQ-3, which Berg Insight has repeatedly named the European market leader for whole home systems, brings its smart home system Homematic IP to the partnership. The VEKA Group, with the two system providers VEKA and GEALAN, is the world market leader in PVC window profiles. These specialists have now pooled their expertise. The result? User-friendly, high-quality yet affordable window, door and shading solutions for everyone who wants a convenient way to make life easier and healthier – from the perfect indoor climate in the bedroom, to automatic door opening, to the ideal room temperature.
Do I have to be a smart home expert?
With TEXINO products, window manufacturers gain a simple, safe entry into the smart home business. The straightforward solutions create valuable added benefits at the window.
In addition to the tested product combinations, TEXINO also includes the full-service, A-to-Z package: with its installation instructions, training programmes and personal support, getting into the field of window and door automation is child's play.
Go to TEXINO: https://www.gealan.de/en/products/smart-home/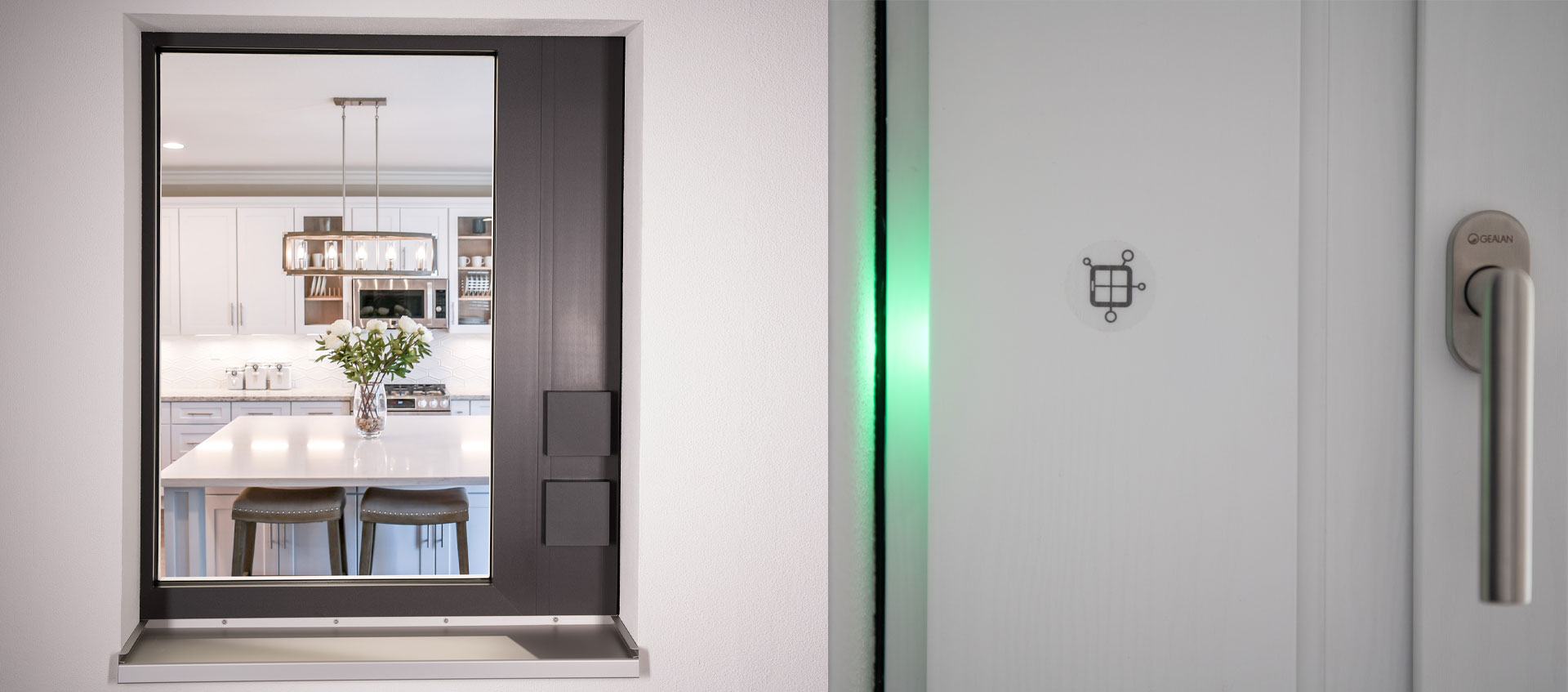 Digital services: Effective tools from window planning to installation
New ideas and digital solutions are also crucial for the window industry. As a digital pioneer, GEALAN already has numerous tools available for supporting planners and window manufacturers in their daily work. We take you with us into the window business of the future.
Window visualisation in new dimensions
Selecting windows and doors has never been easier.
'What would different coloured windows look like?' 'How would a sliding door look on this wall?' – These are questions that may arise but are difficult to answer if you lack imagination. Digital Building Solutions (DDS), VEKA Group's digitalisation partner, has software solutions on hand to visually answer such questions for you. Augmented Reality facilitates visualisation of 3D models at any desired location. It allows for window and door elements to be displayed in the target building in the blink of an eye. Windows and door elements can be easily changed and removed in just a few steps, and effortlessly from a smartphone or tablet.
Planersoftware 2.0
With our Planersoftware 2.0, GEALAN provides its partners with a digital tool that allows them to plan PVC windows and doors effortlessly. All product details are stored in digital form and are constantly updated.
The Planersoftware 2.0 makes calculations, plans static requirements and can display the plans as a complete 2 or 3D model, including profiles, reinforcements and drillings. This means that it's also possible to work with the digital planning method Building Information Modelling (BIM).
BIM – Building Information Modelling: The planning method of the future
Particularly in larger projects, changes can occur during the planning phase. This means that every drawing has to be changed and the quantity determination has to be adjusted. All parties involved in the construction then receive updated drawings in order to be able to coordinate them with the respective technical planning. The big plus of planning using the BIM method: BIM models not only capture a building's geometric structures, but also hold all construction-relevant data and attributes centrally so that they can be updated as needed.
GEALAN is a pioneer in Building Information Modelling (BIM): GEALAN's BIM service supports architects and planners with freely plannable and particularly realistic window and door elements. It already checks and confirms the technical feasibility in advance – free of charge. This unique comprehensive package has persuaded the jury to repeatedly award GEALAN's 'Building Information Modelling' solution first place in the category 'BEST BIM DATA OFFER'.
The digital experts take care of master data & advice
A product portfolio is constantly changing – regardless of whether a new profile is added, an existing profile revised, or new films are added to the range. Various window construction software solutions also regularly offer new developments and functionalities. This is where staying on top of things is a real challenge.
The quality and completeness of master data play a key role in the implementation of the core processes. Often there's great potential for optimisation at this point. The DBS digital experts support the corresponding processes with their extensive window know-how during realisation.
More digital window related GEALAN solutions: https://www.gealan.de/en/window-related-digital-solutions/